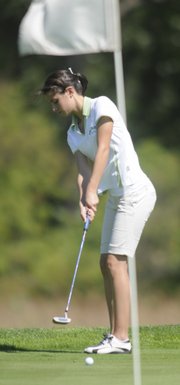 Tired. Grueling. Rough.
Those three descriptions trickled into the sentences of the Free State High and Lawrence High girls golf teams by late Tuesday afternoon. Six hours and 18 holes of tournament play can have that effect. So it seemed reasonable that some of the city's golfers found their thoughts roaming toward a good meal afterward. And maybe a nap.
Eagle Bend Golf Course's winding fairways took their toll on both squads at the Free State Invitational. The Firebirds and Lions placed 12th and 13th, respectively, among the 14 full, four-player teams present.
"It's long," LHS coach Mike Lewis said. "When you're out here for over six hours playing, it's hard to keep your concentration, your endurance, just as a group."
Overland Park Aquinas and Blue Valley West tied atop the team standings with a 341, but Aquinas won based on scores of each team's fifth golfer. Free State finished with a 452 and Lawrence High with a 494.
Free State coach Craig Hershiser said he was disappointed his Firebirds did not perform better on their home course. In particular, he noted poor chipping and putting as the main culprits.
"I'm hopeful the girls can identify some things they need to do in order to improve some scores," he said. "I expected better today, and I'm sure that they did, too. We're going to have to find some ways to eliminate the things that cost us strokes."
Junior Grace Brahler led the Firebirds with a 98, while senior Kelly Morris shot 105. Alyson Butler's 124 and Serena O'Connor's 125 rounded out the official scoring for FSHS. Bethany Cobbs ended her day with a 145 as the team's fifth golfer.
Brahler said she was surprised her team's home-course advantage didn't play a bigger role in the Firebirds' final results.
"We'll probably be more focused in practice after this," she said.
Among the Lions' golfers, sophomore Kathryn Lunte shot a low score of 104. Leslie Queen, Kristy Gerard and Mary Garzillo accounted for the last three team scores by shooting 121, 131 and 138, respectively. Taylor Covert added a 139 and Payton Covert a 140.
"Kathryn definitely led the way, and we expect her to do that," said Lewis, whose team had three girls playing their first 18-hole tournament. "She's put in a lot of work in the spring and summer. She'll definitely keep coming around, as will the other girls. We'll keep practicing hard and see where it takes us."
Lunte said her goal coming in was to break 100, but it got away from her on the back nine.
"It played a little slower than usual," Lunte said of the course. "I was really tired. I think everybody was."
Copyright 2018 The Lawrence Journal-World. All rights reserved. This material may not be published, broadcast, rewritten or redistributed. We strive to uphold our values for every story published.