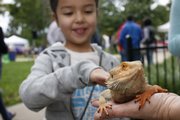 South Park was transformed into an outdoor shopping mall Sunday for the 29th annual Fall Arts and Crafts Festival.
"It's pretty cool," said festival-goer Jen Young of Lawrence. "It's huge."
More than 200 artists and craftsmen participated in the event. Participants strolled the sidewalks where tables displayed a vast array of goods, from jewelry and artwork to pet beds and tie-dyed baby clothes.
Tanika Halcrombe, of Lawrence, sat at one table, her lotions and soaps laid out before her. Halcrombe said it was her first attempt at selling her hand-made glycerin soaps and lotions, made with ingredients including grapeseed oil and avocado. She said sales were a bit slow.
"I'm doing something that I like to do - that's the main thing," she said.
Down another path, Lori Schutter, of Lawrence, and Patti Concidine, of Overland Park, also were making their first appearance as vendors, with hand-made jewelry. Their table displayed beaded cell phone lanyards, stretch bracelets, necklaces and jewelry sets. Schutter said she had sold several items at work, but sales were slow on Sunday.
"We've only sold three things," she said. "We've had a lot of people looking, but not very many buying."
Schutter was undeterred.
"We'll probably come back here next year," she said. "We'll give this one another shot. It's been fun."
Copyright 2018 The Lawrence Journal-World. All rights reserved. This material may not be published, broadcast, rewritten or redistributed. We strive to uphold our values for every story published.