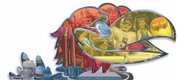 From artists to inventors, Kansas University is home to all kinds of people. In the past year, the university has opened new buildings and hosted world-renowned speakers. Come inside to learn more about the university on top of Mount Oread
Four distinguished Kansas researchers have been honored with prestigious Higuchi-KU Endowment Research Achievement Awards.
And although two of them work at Kansas University and the other two at Kansas State University, there's no hint of rivalry.
Christopher M. Sorensen, a K-State distinguished physics professor, said it was "pretty cool" to receive a research award from KU.
"It pulls us together I think. It just reaffirms the fact that Kansas is a good place to be," he said.
Other Higuchi winners announced Monday were Larry J. Takemoto, a K-State distinguished biology professor; Charles C. Eldredge, KU's Hall Distinguished Professor of American Art and Culture; and, Charles R. Greenwood, a KU professor in the department of applied behavioral science.
The awards honor outstanding research accomplishments by faculty at KU and other Kansas Board of Regent institutions. The program was established by Takeru Higuchi, a pharmaceutical chemist and KU distinguished professor from 1967 to 1983, and his late widow, Aya Higuchi.
Each award includes a plaque and a $10,000 research grant. The winners will be formally recognized during a ceremony Nov. 6 at the Adams Alumni Center at KU.
Balfour Jeffrey Award in Humanities and Social Sciences
Eldredge was director of the Spencer Museum of Art for 11 years and spent six years in Washington, D.C., as director of the Smithsonian's National Museum of American Art. Eldredge returned to KU in 1988 and has taught and written articles extensively on prominent American artists, including Georgia O'Keeffe.
"It's very helpful to be recognized by one's peers and in a practical sense it makes possible research initiatives that might otherwise have been deferred or not possible at all," he said.
Irvin Youngberg Award for Applied Sciences
Greenwood is also senior scientist in the Life Span Institute and directs the Juniper Gardens Children's Project in Kansas City, Kan., one of the Life Span Institute's 13 affiliated centers.
At KU since 1978, his research has focused on how certain environmental factors affect the academic performance of young children born into poverty.
"The thing that's most pleasuring and proud for me is (the Youngberg award) talks about a contribution to the citizens of Kansas," Greenwood said.
Olin Petefish Award in Basic Science
Sorensen joined the K-State faculty in 1977 and is an internationally recognized expert in the area of particulate systems and soft condensed matter physics. He was named the 2007 CASE/Carnegie Foundation National Professor of the Year.
"The biggest thing this is going to do for me is give me a ticket to ride," he said of travel to international research conferences.
Dolph Simons Award in Biomedical Sciences
Takemoto came to K-State in 1979, and his main research has centered on the human eye and the role of lens proteins in the formation of cataracts. Developing substances to deliver anti-cataract agents in the lens is another key component of his work. He was a past president of the Association for Research in Vision and Ophthalmology and a past chairman of the Lens and Cataract Panel of the National Eye Institute.
Takemoto said he has a number of research projects ongoing or planned the funds could be used for.
Copyright 2018 The Lawrence Journal-World. All rights reserved. This material may not be published, broadcast, rewritten or redistributed. We strive to uphold our values for every story published.