Photo Gallery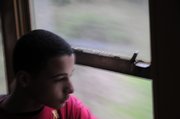 National Childhood Cancer Awareness Day in Baldwin City
About 200 people from the greater Kansas City area boarded a train at Midland Railway in Baldwin City before releasing gold balloons in honor of children who have been victims or are survivors of cancer. The event took place as part of the first annual National Childhood Cancer Awareness Day.
Kara Cunningham was just looking for a park to invite friends and family to celebrate her son Lane's remission from neuroblastoma cancer.
Just less than three weeks later, instead of a celebration for her son, she planned an event for other families to honor their young cancer survivors and those who died as part of the first National Childhood Cancer Awareness Day.
About 200 people boarded a train at Midland Railway in Baldwin City, and after a 30 minute ride, they got off the train and everyone released gold balloons in the air to honor their loved ones.
The train was filled with people of all ages, along with feelings of hope, fear and relief.
Cunningham knows those feelings all too well.
Her 3-year-old son, known to the family as "Super Lane," was diagnosed with cancer when he was 8-and-a-half months old. A softball-sized tumor was discovered in his stomach, which was later removed.
Cunningham, a professor at Ottawa University, was told her son was in remission and had a 95 percent survival rate.
"Of course that was a relieving feeling to hear that," she said.
However, during a follow-up at Children's Mercy Hospital in Kansas City, after her family moved to Baldwin City from Pratt, it was discovered that Lane had cancer all over his body with another tumor in his chest cavity.
"His whole skull was lit up with cancer," she said of observing test results.
"That was a big blow, it was like it all over again two weeks later," she said.
In March 2007, she was again told he was in remission, only to later discover an egg-sized tumor was in his thigh.
"By that time we were really scared because neuroblastoma, if it reoccurs, their survival rate drops very, very far," Cunningham said.
Her "Super Lane" underwent several surgeries. Saturday, in his Superman outfit, he stared out the train window with his bright blue eyes, finally in remission. Cunningham was nearby, finally feeling relief.
"It's nothing like what other people go through," she said.
The stories continued, row by row, in the train cars. There was Trey Jordan, 15, who quietly sat on the train with his friend and family. He has a prosthetic knee from osteosarcoma cancer in his leg that will prevent him from ever playing football again. Every three months he has to have his leg lengthened as he grows. There was his classmate who was diagnosed at the same time with the same cancer, but who is not as responsive to the chemotherapy. There was Judi O'Grady, of Eudora, whose 15-year-old daughter, Brooke, died from Hodgkins lymphoma eight years ago.
"Now that I know what childhood cancer can be like and know what these other families go through, Lane was so lucky because it was just an easier battle than what some of these other kids go through, and he won it," Cunningham said.
"There are kids every day that are not doing as well, and that's why we do this."
Copyright 2018 The Lawrence Journal-World. All rights reserved. This material may not be published, broadcast, rewritten or redistributed. We strive to uphold our values for every story published.