Photo Gallery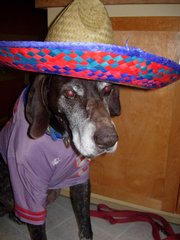 Pet Post: Fall 2008
We love our pets, but pet hair is a frustrating thing to keep on top of as a cleaning chore. The war has a new weapon: Fur Fighter by 3M.
Fur Fighter is a new system for hair removal that was introduced in April. It uses a curved-handled tool, fitted with disposable sheets with tiny rubber fingers to pick up much of the hair that vacuums and sticky lint rollers may miss. It can squeeze into hard-to-reach corners and cushion seams. My sister, who has two Siamese cats, says it's the best thing she's found for this problem.
The basic starter kit with five sheets sells for around $10; eight-sheet refill packs are $5.
Copyright 2018 The Lawrence Journal-World. All rights reserved. This material may not be published, broadcast, rewritten or redistributed. We strive to uphold our values for every story published.