-->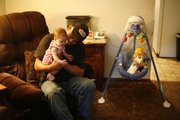 Day care summit set for this month
Douglas County Leadership Delegation on Early Learning will present a summit for local businesses from 8 a.m. to 1 p.m. Sept. 26 at Maceli's, 1031 N.H.
The presentations :
¢ "What the Science of Early Brain Development Tells Us About Community Economic Well-being." The speaker is Rick Gaskill, clinical director, Sumner Mental Health Center, Wellington.
¢ "The Business Case for Investing in Early Childhood: Economic Payoffs for Local Communities." Speakers are Robert Regnier, president and CEO of Bank of Blue Valley, and Chip Blaser, executive director of the, Douglas County Community Foundation.
¢ "Investing in Children." The speaker is Ellen Galinsky, president and co-founder, Families and Work Institute, New York City.
Register for the summit online at WeNeedEarlyCare.net or e-mail Successby6@sunflower.com. You can also call 842-8719. Attendance is free, but space is limited; reservations are required.
Danielle Kriner started searching for a day care center even before she had her now 4-month-old daughter.
She's still searching.
"I've called everywhere and there wasn't a spot open for her," said Kriner, who works in the office at Ballard Community Services, 708 Elm St., which also operates day cares.
Kriner found few day care centers that will take infants, and those that do have a long waiting list for spots that might open. There are in-home day cares, but Kriner said she feels more comfortable about a public center. So Kriner's daughter stays at grandmother's house while Kriner works.
Even if Kriner eventually finds a day care center, the expense will be great - amounting to several hundred dollars a month.
Kriner's difficulty finding day care services is a problem faced by many working parents. It's a problem that can affect a worker's productivity and the ability of a community to attract and retain businesses, some community and business leaders say.
"It's a major concern of companies," said Beth Johnson, vice president for economic development at the Lawrence Chamber of Commerce. "If your children aren't taken care of then parents aren't taken care of, which means they are late for work or don't come in."
Companies considering a move to a new community will want to know whether the firms that are already there are pleased with where they are. Prospective companies will contact the local firms and inquire, Johnson said.
"The first thing is, you have to make sure your existing companies are happy and their needs are met," she said. "That's how it helps us on the recruitment side."
The importance of day care to families and a community's economic development will be discussed during a Sept. 26 summit for Douglas County businesses. The summit will be presented by the Douglas County Leadership Delegation, made up of several business and community leaders. The title of the summit, to be held at Maceli's, 1031 N.H., is "Building Our Future Right From the Start; The Economic Promise of Investing in Early Childhood."
The leadership delegation obtained a $10,000 grant from the Kansas Health Foundation to pay for the summit.
The delegation was set up after two groups of local leaders attended conferences in Wichita in 2006 and 2007 focusing on early childhood development. The conferences were organized by the health foundation
"They really challenged us to go out and try to make a difference in our community in the interest of early childhood development," said Maley Wilkins, community president at Peoples Bank and a member of the delegation.
The delegation found that in 2007, 1,300 babies were born at Lawrence Memorial Hospital. A check with day care centers found only 73 slots for infants, meaning a long waiting list.
"It's something that could get worse, and it's good to get to talking about it now," said delegation member Jean Milstead, director of community relations at Emprise Bank.
Some day care centers are expanding, but it still won't be enough, Milstead and Wilkins said.
Ballard Community Services operates three day care centers and plans to open a fourth. It is interested in partnering with businesses and has been talking with the hospital about a child day care for its employees, said Dianne Ensminger, Ballard president and CEO.
"We try to work a partnership with businesses. There are a number of ways we can make it work," she said.
Wilkins hopes the leadership summit spurs other businesses to seek partnerships for child day care services.
"We don't have a set goal, but we want to start a conversation," she said. "I think people are very bright and creative and if we can just pair up our businesses with the resources in our community, we'd probably be pretty impressed."
Copyright 2017 The Lawrence Journal-World. All rights reserved. This material may not be published, broadcast, rewritten or redistributed. We strive to uphold our values for every story published.