Photo Gallery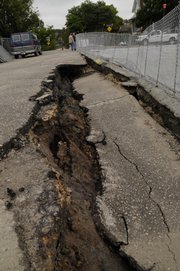 Water main break at the Oread Inn
Crews on Saturday were responding to a water main break near the construction site of The Oread Inn at 12th and Indiana streets.
The break occurred overnight at the south end of the site.
"We caught it in time," said Larry "Cowboy" Wiezorek, superintendent on site for Gene Fritzel Construction. "It could have been really catastrophic."
Rain water from Oread Boulevard at the top of the site flowed over the bank. Wiezorek estimated there to be about five feet of water at the bottom of the site.
The Hawks Pointe III apartment complex east of the site was without water Saturday, but crews with the city utility department at 11:30 a.m. estimated water would be restored within an hour.
"Anytime there's a water break, there's cause for concern," Wiezorek said. "But most of our neighbors have water. Most of our neighbors are being real good about it. We're working with them, trying to be cooperative."
Wiezorek said no streets were closed due to the break. He said crews were pumping out the water and incident would set the project back by one day.
Copyright 2018 The Lawrence Journal-World. All rights reserved. This material may not be published, broadcast, rewritten or redistributed. We strive to uphold our values for every story published.