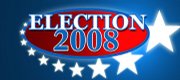 In-depth coverage of the candidates and the issues, all leading up to the Aug. 5 primary and the Nov. 4 general election.
Alaska Gov. Sarah Palin has helped open a pipeline of coverage for Sen. John McCain's presidential campaign, giving the GOP candidate almost 60 percent more media attention last week than Sen. Barack Obama, according to findings of a study released Thursday - a dramatic reversal from earlier in the campaign.
In fact, Palin received 10 percent more ink and airtime than Obama from Sept. 1 to Sept. 7, the study says.
Since early July, the information database company LexisNexis has been tracking media coverage of McCain and Obama, evaluating thousands of print, broadcast and online stories each week. Last week marked the first time McCain has received more coverage than Obama. Before that, Obama had been averaging about one-third more stories a week than McCain.
Much of last week's swing in media coverage, of course, was attributable to the GOP convention in Minnesota. But the "Palin bump" undoubtedly boosted the attention paid to the McCain campaign.
Perhaps the most surprising finding from last week - at least to those who claim the media have been attacking Palin - was that the coverage of Palin was deemed balanced. Based on 6,027 stories analyzed, LexisNexis found that 26 percent were positive, 22 percent negative and 52 percent neutral.
Since the media tracking began, the tone of coverage has been almost identical for each top-of-the-ticket candidate, LexisNexis has found, again flying in the face of widespread claims that the media favor Obama over McCain.
While Palin and McCain spent last week atop the media charts, Obama running mate Sen. Joe Biden was tossed in the discount bin, receiving only 683 stories to Palin's 6,027.
Copyright 2018 The Lawrence Journal-World. All rights reserved. This material may not be published, broadcast, rewritten or redistributed. We strive to uphold our values for every story published.