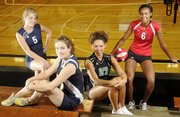 Leadership figures to be a strength for the city's four high school volleyball teams this season.
Lawrence High and Free State High will suit up a combined 15 seniors, while Seabury Academy and Veritas Christian welcome back a total of nine players from 2007. In addition, Seabury and Veritas usher in new coaches who have extensive volleyball backgrounds.
At LHS, alum Stephanie Magnuson enters her second year as head coach. Despite losing several seniors, Magnuson has reloaded with more for 2008. The returning experience has made Magnuson calm entering the season.
"I definitely feel more comfortable this year," she said. "The biggest difference for us this year is the amount of kids who were involved in volleyball in the offseason. That's going to help tremendously."
The Lions will be led by all-state senior Tayler Tolefree, who figures to be the focal point of opposing teams.
"I'm looking forward to seeing people attempt to shut her down," Magnuson said. "Because the girls around her are just as good."
That includes seniors Caitlin Fisher, Katlyn Green, Morgan Harris, Grace Hildenbrand, Maddy Orth and Hillary Wehmeyer.
While only a handful of the seniors played varsity last year, Magnuson said all of them are ready to contribute this year.
"My sub-varsity coaches really prepare the kids to be varsity players," she said. "So I'm not worried about rebuilding."
Juniors Jasmyn Turner and Carrie Klemencic and sophomores Lillian Schonewise and Mary Coldsnow round out the roster.
Across town at Free State, coach Nancy Hopkins enters 2008 with yet another talented group.
Seniors Taylor Manning, Danielle Augustine, Sierra Dickson and Ali Jacobsen return from last year's team, providing a powerful attack.
Those seniors will be supported by fellow-returner Chantay Caron, newcomers Ashleigh Allam, Melissa Burch and Alex Mollohan, and seniors Chamisa Edmo and Sydney Vogel.
"I've been really blessed that I've always been able to reload with really good players," Hopkins said. "Right now, we're just trying to get them all on the same page and go from there."
Allam and Burch transferred to Free State a year ago but were ineligible to play volleyball. Mollohan transferred to Free State this year. Burch and Mollohan are expected to factor into the Firebirds' offense, and Allam represents one of the team's most defensive-minded players.
"Offensively, we're loaded to the gills," Hopkins said. "Defensively, we're working on that right now. If we can pass the ball, we'll be just fine."
At the city's two smaller schools, both Seabury and Veritas welcome first-year coaches to their program.
Former LHS and Baker University assistant coach Chrissy Leuty takes over at Seabury, where she inherits five players from 2007 and three freshmen.
Senior captain Bria Phipps will lead the team as both an experienced upperclassmen and the Seahawks' setter. Leuty calls Phipps the best all-around player on the team. Joining Phipps as the top talents in the lineup will be junior outside hitter Calli Noller and freshman middle hitter Charlotte Burch.
Senior Arielle Spiridigliozzi adds size and experience, while junior Jamie Fischer, sophomore Angela Thomas and freshmen Alyson Oliver and Bailey Bartley fill out the roster.
"This season is not about winning and losing but about getting better every time they step on the court," Leuty said. "Our team is working toward being prepared for regionals."
At Veritas, Kristen Oberzan steps in to replace four-year head coach Kyle Billings. Billings will remain close to the team in an administrative role but will give way to Oberzan on all coaching decisions.
It's something he's extremely happy to do considering Oberzan's credentials.
Formerly Kristen Holmes, Oberzan played college volleyball at Texas Tech University and has national coaching experience.
"It's the same as if we were starting a tennis team and Stefi Graf asked to coach it," Billings said. "We're very blessed."
So, too, is Oberzan, who will ease into her first year with the benefit of four returning players. Seniors Taelyr Shelton and Kirsten Bennett join Meaghan Holmes and Emily Zimmerman as the bulk of the team's experience, and senior Becky Singer also is expected to contribute to this year's squad.
Madison Eakin, Ellen Phillips and setter Shereen Fattaahi round out the roster, which Oberzan said has improved greatly since the opening day of practice.
"They've come a long way just in the week we've been in season," she said. "We don't have huge power hitters like last year, but we will compete just as well because our ball control will be so strong."
Copyright 2018 The Lawrence Journal-World. All rights reserved. This material may not be published, broadcast, rewritten or redistributed. We strive to uphold our values for every story published.