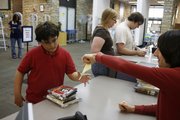 The public library - it's close to home, it's full of entertaining and useful resources, and it's free, which has made it a staple in many communities.
And it's those qualities that librarians think contribute to their growing popularity in an ailing economy.
While the summer months are always the busiest, area libraries have reported a significant increase in activity this year.
The Lawrence Public Library was no exception. In July, 118,176 items were checked out, up 16 percent compared with July 2007, when 101,176 items were checked out. In June, 113,006 items were checked out, compared with 105,899 the previous year - an increase of 6 percent.
Director Bruce Flanders said he suspected the economy might have something to do with the higher numbers this summer, although he said there's no way to know for sure.
"I think that's probably true. People do look for ways to find a better job or find ways to save money by using the library more," he said.
Record-setting numbers
This summer produced some of the highest numbers in traffic and circulation the Johnson County Library system has ever seen, said community relations manager Marsha Bennett.
"In July we had a record-setting month as far as number of visits and number of checkouts," she said. "In July, we had 259,276 people visit our 13 library locations."
The number of visitors reported in July broke the previous record of 251,413 set in 2002, Bennett said, and visits were up about 11 percent from last year. Circulation was up about 6 percent from last year and more than 6 million items total are expected to be checked out this year.
"We have a lot of free resources and I think people are taking advantage of that," Bennett said.
While circulation at the Basehor Community Library almost doubled from 9,333 items in July 2007 to 15,975 in July 2008, assistant library director Jenne Laytham said most of its increased activity was probably related to the new 13,600-square-foot facility that opened in April. People have been coming in just to check out the new library, she said, but then they discover that the library has a lot more to offer than just books.
"I like the term 'rediscovering' the library," she said. "People are just amazed that we have DVDs, including current blockbusters."
Free resources
Donna Baker, a Bonner Springs resident, has been using the Basehor library for years.
"I work at Books-a-Million and I just see books that I want and I come here because it's cheaper," she said.
She also commented that the new facility in Basehor was really nice, so a visit to the library was even more enjoyable.
Basehor patrons have "never had a place to sprawl," Laytham said, so in the past people would just check out items and leave. However, with the new building's seating areas, tables and the extra space, the small town library is able to offer many of the things larger city libraries have, such as quiet study rooms, free WiFi and classes.
"It has a lot to do with us growing," she said, "but libraries are more in focus now."
Small town growth
Like the Basehor Community Library, directors at the Bonner Springs and Eudora libraries have paid close attention to the upswing in the usage of library resources.
Bonner Springs Library director Kim Beets said the library is anticipating the opening of a new facility in March, which will cause quite a bit of growth in visitors, but right now it has reached its capacity.
"Our checkouts and our usage has been pretty consistent compared to last year," she said. "But there are a couple of trends we're noticing. We have an increase in computer usage."
Area librarians said more people were coming in to use the computers to complete homework, search for employment and take care of other business, such as electronic filing during tax season.
In Lawrence, computer use remains a popular activity for all ages, said Sherri Turner, assistant director of the Lawrence Public Library. Because of demand and long waits, patrons can only log on to computers for one hour per day.
"It's for every reason imaginable," she said. "They come in to research things; they check out their favorite Web sites."
John Williams, 22, finds a bit of solace in the basement computer lounge. He has been logging on at the library for about a year.
He checks his e-mail and plays games "just to get away from the house," he said.
Some library patrons also take advantage of the free Internet services, said Carla Kaiser, director of the Basehor Community Library.
"I think many are using the library for the Internet access, so they don't have to pay for it at home," she said. "They are opting to use the library's resources rather than having a monthly bill."
Copyright 2018 The Lawrence Journal-World. All rights reserved. This material may not be published, broadcast, rewritten or redistributed. We strive to uphold our values for every story published.