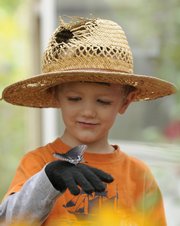 Foley Hall on Saturday was caterpillar city.
"The kids can ooh and ahh," said Chip Taylor, director of Monarch Watch. "We've got caterpillars of a lot of different kinds."
Caterpillars, monarch butterflies and blooming flowers were among the sights at the annual fall open house for Monarch Watch, an educational outreach program at Kansas University.
The daylong event drew about 1,000 people Saturday with hands-on displays, monarch tagging demonstrations, garden tours and treats.
Taylor said the event drew double the roughly 500 people it typically attracts. Monarch Watch gave away more than 450 monarch chrysalides.
"We have a lot of 'oh my' insects out here on display," Taylor said. "It's just fun to give the public an opportunity to see these things."
Carrie Wendel-Hummell and her two children walked the grounds Saturday around Foley Hall.
"We've come just about every year since we moved here," Wendel-Hummell said. "We just have a fun time looking at the butterflies and picking up our chrysalis."
Monarch Watch's butterfly tagging event at the Baker University Wetlands is set for 7:30 a.m. to 11:30 a.m. Sept. 20.
Copyright 2018 The Lawrence Journal-World. All rights reserved. This material may not be published, broadcast, rewritten or redistributed. We strive to uphold our values for every story published.