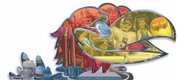 From artists to inventors, Kansas University is home to all kinds of people. In the past year, the university has opened new buildings and hosted world-renowned speakers. Come inside to learn more about the university on top of Mount Oread
Steamed alumni have made their voices heard: The whistle on the Kansas University campus will blow again.
KU Chancellor Robert Hemenway announced Friday afternoon that the whistle, which hasn't blown since the semester started, will begin blowing again on Monday.
KU spokeswoman Lynn Bretz said the Alumni Association, Endowment Association and several offices on campus had all heard from alumni, students and staff who were dismayed that a nearly century-old tradition of blowing a whistle at the end of a class had been discontinued for budget reasons.
"Jayhawk nation spoke, and we listened," she said.
The university is asking those who offered to pay to fund the whistle to make a donation to a university maintenance fund at www.kuendowment.org. This fund will be separate from ongoing efforts to seek donors for deferred maintenance projects.
KU estimates blowing the whistle costs as much as $7,000 per year.
Copyright 2018 The Lawrence Journal-World. All rights reserved. This material may not be published, broadcast, rewritten or redistributed. We strive to uphold our values for every story published.