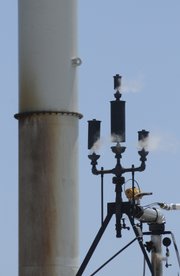 Don Steeples embraces tradition, understands the importance of getting to class on time and respects the public's communal reliance on familiar on-campus rituals.
He also knows that tooting KU's familiar steam whistle costs about $3,000 a year.
So he pulled the plug.
"We could buy paint for about a dozen classrooms a year with what's being blown out into the sky," said Steeples, a senior vice provost at Kansas University. "The final decision is to shut the whistle down."
A whistle first blew on campus in 1899 and started signaling the end of classes in 1912. After high pressure blew the metal whistle off a power plant roof in January 2003, a brand-new model - financed by a faithful KU alum, who is a Lawrence surgeon - went into service three months later.
Now, as of this semester, the custom-made unit is silent.
"I wish they still had it, because I heard it was kinda cool," said Erin Bigler, a KU freshman from Wichita, whose friends had touted the tin tooter. "Everybody was like, 'Yeah, it's the end of class!' And then go out. :
"The first day of class, I was listening for it. I didn't hear it, and I was like, 'OK, you're lying to me.' But they weren't."
Matt Hinsz, a KU senior and member of the men's hockey club, acknowledged it would be difficult to shake the sound that he'd heard for several years - even when he worked on 23rd Street, well away from the main campus,.
"I guess we'll just have to live without it," he said.
That's because KU is working to cut costs, Steeples said, as leaders have been told to plan on a 2 percent budget reduction by June 30 and, perhaps, another 5 percent for the next fiscal year.
"Our utility budget is over $10 million a year, so $3,000 out of $10 million is not much," Steeples said. "But every $3,000 that we spend on blowing steam into the air is $3,000 that we can't spend on paint or other things that are necessary to keep the campus running. And the whistle is simply not necessary to keep the campus running."
Steeples considered the value of retaining a campus tradition, but that idea vaporized as fast as the steam released at temperatures higher than 300 degrees.
"A lot of our traditions don't cost money," said Steeples, who has worked at KU for 34 years. "The waving the wheat doesn't cost money. The Rock Chalk cheer is a strong tradition that doesn't cost anything, so this really sort of boils down to budget and practicality on one hand trumping tradition on the other."
Steeples balked at the suggestion that some KU graduate might hear about the silent whistle, and then decide to donate money to return the reverberations back to campus.
But he wouldn't rule the concept out, either.
"We'll cross that bridge when we come to it," Steeples said. "I'd much rather see them donate for something we really need. Lord knows, we've got plenty of needs."
On the street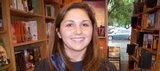 It's really sad that they're shutting it down. It's definitely a part of KU's tradition.
Copyright 2018 The Lawrence Journal-World. All rights reserved. This material may not be published, broadcast, rewritten or redistributed. We strive to uphold our values for every story published.