Photo Gallery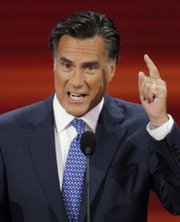 Republican National Convention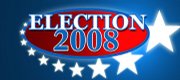 In-depth coverage of the candidates and the issues, all leading up to the Aug. 5 primary and the Nov. 4 general election.
St. Paul, Minn. — Alaska Gov. Sarah Palin claimed her historic spot as the Republican Party's vice presidential nominee Wednesday night, uncorking a smiling, sarcastic attack on Barack Obama and winning cheers of acceptance and approval after a tumult-filled first week on the national stage.
She vowed to the Republican National Convention - and millions more around the country - that she would help presidential nominee John McCain bring real change to Washington, saying "he's a man who's there to serve his country and not just his party."
McCain joined her on stage, to even bigger cheers. In an anti-climactic roll call vote, the delegates then awarded him the presidential nomination he has sought for a decade - propelling him into the fall campaign. At 72, the Arizona senator is the oldest first-time nominee in history.
The 44-year-old Palin, scarcely known a week ago, had top billing on the third night of the convention. The first woman vice presidential candidate in party history, she made her solo national debut after days of tabloid-like scrutiny of her and her family.
Some of the biggest roars were for her barbs aimed at Democratic presidential nominee Obama.
"Victory in Iraq is finally in sight; he wants to forfeit," she said of Obama. "Al-Qaida terrorists still plot to inflict catastrophic harm on America; he's worried that someone won't read them their rights."
To the delight of the delegates, McCain strolled unexpectedly onto the convention stage after the speech and hugged his running mate.
"Don't you think we made the right choice" for vice president? he said as his delegates roared their approval. It was an unspoken reference to the convention-week controversy that has greeted her, including the disclosure that her 17-year-old unmarried daughter was pregnant.
The packed convention hall exploded in cheers as McCain stood with Palin and her family - including mother-to-be Bristol and the father, 18-year-old Levi Johnston.
Palin drew waves of approval from the moment she stepped onto the convention stage, hundreds of camera flashes reflecting off her glasses.
If McCain and his campaign's high command had any doubt about her ability at the convention podium, they needn't have. With her youthful experience as a sportscaster and time spent in the governor's office, her timing was flawless, her appeal to the crowd obvious.
"Our family has the same ups and downs as any other, the same challenges and the same joys," she said as the audience signaled its understanding.
Not surprisingly, her best-received lines were barbs at Obama.
"I guess a small-town mayor is sort of like a 'community organizer,' except that you have actual responsibilities," she said, a reference to Obama's stint as a community organizer.
She said of McCain: "Take the maverick out of the Senate. Put him in the White House. He's a man who's there to serve his country, and not just his party."
A parade of party luminaries preceded Palin to the convention podium, and Republicans packing the hall cheered every attack on Obama.
"He's never run a city, never run a state, never run a business, never run a military unit. He's never had to lead people in crisis," said former New York Mayor Rudy Giuliani of McCain's rival.
"This is not a personal attack ... it's a statement of fact - Barack Obama has never led anything. Nothing. Nada."
Copyright 2018 The Associated Press. All rights reserved. This material may not be published, broadcast, rewritten or redistributed. We strive to uphold our values for every story published.