Photo Gallery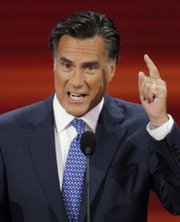 Republican National Convention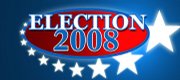 In-depth coverage of the candidates and the issues, all leading up to the Aug. 5 primary and the Nov. 4 general election.
St. Paul, Minn. — When he steps to the lectern at the Xcel Energy Center tonight to accept the Republican presidential nomination, Sen. John McCain will face an immediate comparison to an opponent known for his soaring rhetoric who delivered his own speech to a football stadium full of people and a television audience of 38 million. And that is the easy part.
The more difficult challenge McCain has set with his acceptance speech, according to friends and senior advisers, is to recalibrate his campaign's central message and the line of attack he plans to use against Sen. Barack Obama.
McCain will seek to recast the Republican Party's brand in his own maverick image, staking his claim to the presidency on a depiction of himself as a political renegade in an attempt to overcome what he will paint as his opponent's more ephemeral call for change.
For weeks, he has rallied the party's base with calls for increased oil drilling and pledges of fealty on abortion. His selection last week of Alaska Gov. Sarah Palin as his running mate finished that job, energizing lukewarm conservatives and evangelical voters. On the stump, McCain has attacked Obama relentlessly as too inexperienced to be president. But that argument has faded as Palin's own credentials have been questioned. Now, McCain has doubled down on the maverick theme, touting his new running mate as an upstart reformer in his own image, and casting the ticket as more willing to challenge the way Washington works than Obama and his running mate, Sen. Joe Biden of Delaware.
Jill Hazelbaker, McCain's spokeswoman, said the address will focus on "the maverick piece, the independence piece," and said he will describe for independents and Democrats "how he arrived at his decisions, his history of shaking up the status quo, working across the aisle."
Mark Salter, McCain's alter ego and longtime book collaborator, began circulating drafts of the speech to a handful of senior aides eight weeks ago. Since then, McCain has been practicing daily - on the road, in hotel conference rooms, behind a lectern, and at his vacation home in Sedona, Ariz., with a teleprompter.
Other aides said the speech will be shorter than the 45 minutes that some former nominees have taken, but longer than the 15 minutes that an aide once predicted.
McCain has been a fixture at GOP conventions for more than a decade. But tonight, the 22-year member of the U.S. Senate must make the case for himself, and convince voters, especially independents, that he would bring an outsider's perspective to the White House.
"The ultimate political reality here is that Obama may win as a typical Democrat," said Michael Gerson, who co-wrote both of George W. Bush's convention speeches, in 2000 and 2004. "John McCain has no chance to win as a typical Republican."
Sen. Lindsey Graham, R-S.C., a close friend of McCain's who has seen excerpts of the speech, described it as a blunt message for fellow Republicans to accept McCain's demand for change or risk losing their political future.
"'Wake up! We're a party in retreat. We need to regroup, change the way we are doing business,' " he said, describing the tone of the address. McCain will argue "that we're better prepared to lead and bring about the change necessary than our opponents, and that we will be different than the last four to eight years."
Copyright 2018 The Lawrence Journal-World. All rights reserved. This material may not be published, broadcast, rewritten or redistributed. We strive to uphold our values for every story published.