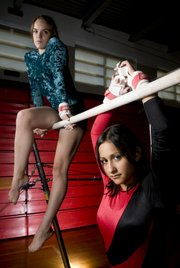 In years past, Kathy Johnson could count on her Lawrence High gymnastics team making an appearance at the state meet. As high school sports go, it was as close to a sure thing as it got - 10 times in the last 11 seasons.
Free State High, meanwhile - the other team Johnson coaches - often seemed overshadowed. The Firebirds must have felt a lot like the younger sibling watching big sister ride off to the prom.
Last year, both teams finally made the dance. But as the 2008 season begins, it's Free State that might take center stage away from LHS.
"It's sort of a flip-flop of what it's been in the past, where Lawrence High has had a lot of the seniority and the experience," Johnson said.
This season, Free State has eight total gymnasts to Lawrence's five. The Firebirds also return five participants from last year's seventh-place state team. Two of those returners placed in the top 10 in individual events. Senior Amelia Firns-Hubert finished eighth on the bars, while junior Drue Davis had a fourth-place finish on the floor routine and placed ninth in the all-around standings.
Davis said there were times last year when Free State couldn't get enough scores to count at meets because of its small squad. That shouldn't be the case this season, though.
"If everything goes well, we should probably have a team going to state," Davis said. "If not, a lot of individuals at least. I am really excited about this year because we have a lot more girls and a lot higher chances."
Seniors Courtney Zinn and Paige Trimble and sophomore Kelcy Bowers also are expected to lead the Firebirds' charge toward back-to-back state appearances. Senior Alexa Clements and sophomores Lexi Gonzales and Aly Frydman join the squad as well this season.
For Lawrence, the toughest transition this season might be finding a way to replace Mallory West, who graduated last year as a three-time all-around state champion and led LHS to a third-place team finish in 2007.
The good news is that the Lions will have at least two seasons to do it. Not a single senior can be found on this year's roster.
Johnson said the key for LHS this season would be getting consistent scores from the team's third and fourth gymnasts.
Lawrence will rely heavily on juniors Rachel Rasmussen, Maria Carvajal and Caitlin Haig. Sophomores Tawney Carter and Sierra Randall fill out the Lions' lineup.
"I think it puts a lot of pressure on us as a team just because we don't have a lot of people," Rasmussen said. "But I think it's also a really cool challenge for us to have."
Carvajal returns as a top-10 individual-event finisher from a year ago. She placed ninth on the balance beam at state.
Carvajal said many of the experienced gymnasts from both teams spent their summer going to open gym twice a week at Lawrence Gymnastics Academy to prepare for the upcoming season. If the Lions don't wind up at state as a team, she said she was hoping they at least would qualify a couple of individuals.
Both teams begin the season September 10 with the Lawrence High quad.
Copyright 2018 The Lawrence Journal-World. All rights reserved. This material may not be published, broadcast, rewritten or redistributed. We strive to uphold our values for every story published.