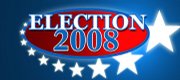 In-depth coverage of the candidates and the issues, all leading up to the Aug. 5 primary and the Nov. 4 general election.
Preserving green space and managing growth have been common phrases in one Douglas County Commission candidate's campaign.
Democrat Ken Grotewiel, a Third District candidate, said the county can find a balance in the urban growth process, and he has mentioned being the right man for the job.
"It's important that we have really open discussions there because if things don't go right, then later the taxpayers are left paying the bill," said Grotewiel, who recently moved to Lawrence and was once a state legislator from Wichita.
Growth has long been an issue in Douglas County, and all four candidates - Grotewiel and his Republican opponent Jim Flory, as well as the Second District's David L. Brown and Nancy Thellman - have said during the campaign that it's time to move past bickering and labels in the process.
Grotewiel-Flory
Grotewiel, who is also a retired Kansas Water Office official, has been vocal during the campaign about the county managing growth, especially for economic development and balancing it with more green or open space.
"Both really tie into each other, and in fact, in the long term, I think the more green space you have it really does increase property values and therefore is good for the tax base of the county," he said.
A city- and county-appointed ECO2 commission seeks to do exactly that. Grotewiel has also said the county needs to forge closer partnerships with cities, property owners and developers about crucial water issues.
Flory, a former Douglas County district attorney, has mentioned trying to grow the tax base during tough economic times. He's also said the county needs to have a "reasoned, very closely guarded growth" that is not scattered at any cost.
"I don't go into it with any preconceived notions," Flory said.
In Tuesday's election, the candidates are trying to replace Republican Commissioner Jere McElhaney, who is not seeking re-election. The district includes western Lawrence, Lecompton and the western portion of the county.
Brown-Thellman
Thellman, a Presbyterian minister from rural Lawrence, said the county needs to work with citizens and developers on their concerns and to foster a respectful process for economic development and growth.
"It would be so much easier to get there if we stop labeling people as 'no-growth' or 'pro-growth' or 'tree huggers' or 'concrete lovers.' Those are not helpful terms. They don't get us to move along," she said.
Last year, Thellman helped lead opposition to a proposed industrial development project near Lawrence Municipal Airport because she had concerns about flooding and protecting prime agricultural land. She said being involved in that process has helped prepare her to serve on the county commission and help improve the development process.
Brown, a retired longtime Douglas County Sheriff's officer and farmer and rancher from rural Vinland, has also mentioned avoiding name-calling during development considerations.
He, too, had flooding concerns about the airport development proposal.
Overall, on growth and development issues, Brown said he can balance concerns from residents with the need to expand the tax base and improve infrastructure.
"I want what is best for as many people as possible. I want what's best for the county. I want what's best for the residents," he said.
Brown and Thellman are seeking to replace Republican Commissioner Bob Johnson, who is not seeking re-election. The Second District includes North Lawrence, southeastern Lawrence, Eudora, Baldwin City and most of eastern Douglas County.
Copyright 2018 The Lawrence Journal-World. All rights reserved. This material may not be published, broadcast, rewritten or redistributed. We strive to uphold our values for every story published.