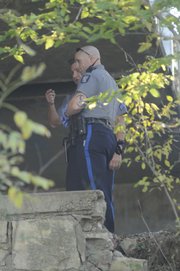 Lawrence police are investigating the death of a 53-year-old transient man whose body was found under the Kansas River bridge.
This is the third death among the city's homeless population in five days.
Police received a call at 3:36 p.m. Wednesday about the body of John Walters, which was discovered under the southbound bridge over the river. Police blocked the area with crime scene tape and photographed the area.
"There are no apparent signs of foul play," said Sgt. Troy Squire at 6 p.m.
Police spokesman Sgt. Bill Cory said Walters appeared to have "some medical issues" and that an autopsy was planned.
A manager at First State Bank, 609 Vt., said a man came into the bank and asked for someone to call 911 to report the body.
"He did say that he tried to wake the person, and he was not able to wake (the person)," she said.
"It's definitely disturbing and disheartening," said Lara Burger, who lives across the street from Constant Park, near where Walters' body was found. "It's very sad. It's unfortunate."
Another body was found in this area in August 2000. Police eventually determined the body was that of a homeless woman from Ottawa who had moved to Lawrence. The area has long been a popular campsite for homeless people.
"I see homeless people down there every once in awhile," said Zach Campbell, who lives in the area. "A lot of people just kind of sit out during the day : and at nighttime you see people fishing every once in awhile."
Two men were found dead in a tent last Friday in east Lawrence, at a well-known campsite for local homeless people. Police said the men died of drug overdoses. The bodies were found in a wooded area just north of the Amtrak station, east of the Riverfront Mall.
Copyright 2018 The Lawrence Journal-World. All rights reserved. This material may not be published, broadcast, rewritten or redistributed. We strive to uphold our values for every story published.