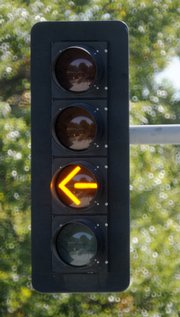 Lawrence traffic officials always want to be on the cutting edge, but just how badly does Lawrence need blinking yellow left-turn arrows to guide drivers at a number of local intersections?
Lawrence is the first community in Kansas to be authorized by federal highway officials to use the flashing signals, which are designed to replace the familiar "LEFT TURN YIELD ON GREEN" signs. Just in case motorists didn't get what that sign means, the new signals offer some new - if unfamiliar and somewhat confusing - cues.
The left-turn arrows turn from green to a solid yellow when oncoming traffic is about to get a green light. It turns to flashing yellow to indicate that left turns are allowed - but you still, as the sign used to say, must yield to oncoming traffic. Then it turns back to solid yellow before turning to red to complete the cycle.
If motorists simply stop in confusion when faced with the blinking yellow light, that's OK, according to the city's traffic engineer; it's safer than making a left turn anyway. Of course, this is the same office that brought us the ever-popular traffic-calming structures, expansion of which has been mercifully put on hold by budget concerns.
The cost of installing the arrows at 19th and Louisiana Street and a few other locations pales by comparison to the huge expense the city faces to fix its deteriorating streets, but it makes us wonder about some of the spending decisions of city officials.
Copyright 2018 The Lawrence Journal-World. All rights reserved. This material may not be published, broadcast, rewritten or redistributed. We strive to uphold our values for every story published.