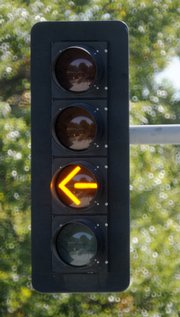 Changing signals
Intersections where "LEFT TURN YIELD ON GREEN" signs are set to be removed this fall, and new "flashing yellow" lights will be installed to signal when drivers can turn left across oncoming traffic:
¢ On Sixth Street, at Vermont Street.¢ On 31st Street, at entrances for Home Depot and the U.S. Post Office.
Other intersections will be considered once officials have had a chance to assess how well drivers are accepting and negotiating the intersections using the adjusted signals, said David Woosley, the city's traffic engineer.
The days of glancing at a green ball and deciding when or whether to turn across traffic soon could be coming to an end in Lawrence.
New "flashing yellow" left-turn arrows are operating in signals on Louisiana Street at 19th Street, giving drivers a new look when it comes to turning in the face of oncoming traffic.
It's a signal system that replaced the familiar "LEFT TURN YIELD ON GREEN" signs that previously accompanied the green turn arrows at that location - signs and signals that continue to guide traffic at many other intersections in town.
The signs with the green circles could be eliminated, because the functioning flashers are considered better for preparing drivers to deal with the potential dangers of turning across traffic.
"We're hoping people will be more cautious," said David Woosley, the city's traffic engineer.
Lawrence is the first community in Kansas authorized by the Federal Highway Administration to use such flashing signals. The administration started looking into the flashing signals as a possibility back in the mid-1990s, and since then has determined that they are the best alternative to the traditional signs-and-signals systems.
"Motorists responded strongly and favorably to the concept with little or no public information," the administration said, in its formal evaluation of the flashing signals. "These users ... intuitively knew what the flashing yellow signals meant."
Valerie Hudson must not have gotten the memo.
The secretary at the Lawrence Virtual School, 2145 La., drives through the intersection fairly regularly and still - two months after the flashing signals went operational - doesn't know exactly what they mean.
"I just take cues from the other drivers to determine when I'm supposed to go," Hudson said. "There have been times when I'm out there with four other people, sitting in our cars just scratching our heads wondering, what do we do now?"
That's not such a bad thing, Woosley said.
"If somebody sees it and they don't understand it, they may not make the turn," he said. "That's a lot safer than somebody seeing a green ball and thinking they have the right of way when they don't."
For the record, Woosley said, here's the sequence for the new "protected/permissive" turn signals on Louisiana at 19th:
¢ Red arrow: Stop, as always. No left turns allowed.
¢ Green arrow (solid): Go ahead and turn left. You have the right of way.
¢ Yellow arrow (solid): Prepare to stop. Oncoming traffic is about to come from the other direction.
¢ Yellow arrow (flashing): Left turns allowed, but drivers must yield to oncoming traffic.
¢ Yellow arrow (solid): Again, prepare to stop. Traffic is about to come from your left and your right.
Hudson's take: "How are drivers supposed to know that? Essentially, they're asking us to relearn our turning directions, things we've known for years. :
"There's a possibility this could cause some bigger issues."
Such cautions are part of the reason Woosley's staff hasn't installed the new signals in similar circumstances all over town, or at least not yet.
Next up will be the signal for drivers headed west on Sixth Street, at Vermont Street. Then the flashing yellow turn signals will show up for traffic heading into Home Depot or the U.S. Post Office off 31st Street.
Other signals could get the treatment once those operations - one at the northern end of town, another near the center and a third at the southern part of town - have had time to sink in.
"We want to see how it's handled," Woosley said, of the prospects for altering others throughout Lawrence. "We want to get the town used to the protective/permissive arrow."
Copyright 2018 The Lawrence Journal-World. All rights reserved. This material may not be published, broadcast, rewritten or redistributed. We strive to uphold our values for every story published.