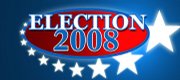 In-depth coverage of the candidates and the issues, all leading up to the Aug. 5 primary and the Nov. 4 general election.
Even though today is Saturday, Douglas County voters can still go to the ballot box to cast advance votes for the Nov. 4 election.
The Douglas County Clerk's Office in the courthouse, 1100 Mass., will be open from 8 a.m. to 3 p.m. for in-person advance voting. The clerk's office will also operate satellite advance voting sites from 8 a.m. to 3 p.m. today at the Baldwin City Library, the Eudora City Clerk's Office and the Lecompton City Clerk's Office.
Douglas County Clerk Jamie Shew said the county is already headed for a record of advance votes. Shew expected his office to have received more than 9,000 in-person and mailed advance votes at the end of Friday with several days of voting left. About 9,700 advance votes were cast in Douglas County for the 2004 presidential election.
In-person advance voting ends at noon Nov. 3.
Mail-in advance ballots can be requested from the clerk's office until 5 p.m. Friday. To learn more about requesting a mail-in ballot, visit douglascountyelections.com.
A completed ballot can be hand-delivered to the clerk's office in the courthouse or mailed with $1 postage to the clerk's office, 1100 Mass., Lawrence, KS 66044. They must be received by 7 p.m. Election Day.
Copyright 2018 The Lawrence Journal-World. All rights reserved. This material may not be published, broadcast, rewritten or redistributed. We strive to uphold our values for every story published.