Past Event
Varsity Football
When: Friday, October 24, 2008, 7:30 p.m.
Where: Haskell Memorial Stadium, Haskell campus, Lawrence
-->
-->
-->
Photo Gallery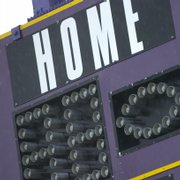 LHS football aura captured in Haskell
The history of the Lions-Firebirds rivalry:
1997 - Lawrence 34, Free State 15
Adrian Garcia ran for 156 yards and two touchdowns to lift the Lions in the inaugural meeting. Garcia was one of LHS 20 seniors. Free State had four. Dick Purdy was the Lions' coach. Bob Lisher was the Firebirds' boss.
1998 - Lawrence 28, Free State 24
Free State entered with a 6-2 record and was favored, but the Lions used a trick play to stun the Firebirds. LHS quarterback Riley Scott faked an inside handoff, then tucked the ball under slotback Simon Cordova's right arm, and Cordova ran 41 yards for the game-winning touchdown.
1999 - Free State 31, Lawrence 28, OT
Free State earned its first victory in the series on a 20-yard field goal by Nate Vail in overtime. Free State tailback Chris Wheatley ran for 180 yards and a score in Dirk Wedd's first year as the Lions' coach.
2000 - Lawrence 35, Free State 0
Senior quarterback Devin McAnderson had 156 yards rushing and accounted for four touchdowns as the Lions held Free State to only 49 yards of total offense, the lowest output in school history.
2001 - Free State 16, Lawrence 0
Owning just a 1-6 record, the Firebirds stunned the Lions by posting the first shutout in school history. Free State's Damien Patton rushed for 72 yards and a touchdown as the Lions lost three fumbles and threw three interceptions.
2002 - Lawrence 42, Free State 26
In muddy conditions, Lawrence High did what it did best - run, run, run. LHS compiled 412 yards of offense and all but four of those came on the ground. Brandon McAnderson and Chris Fulton accounted for six touchdowns.
2003 - Lawrence 21, Free State 6
Jeff Colter rushed for 131 yards and two touchdowns. Lawrence gained 243 yards on the ground and 40 yards through the air, with all the passing yardage coming on one play.
2004 - Free State 14, Lawrence 12
Free State had a minus-11 turnover ratio and a 1-6 record heading in, but the Firebirds pulled off the stunner as Brett Lisher intercepted a pass with 4:01 left to secure the victory.
2005 - Lawrence 33, Free State 28
Brandon Lassiter and Nolan Kellerman rushed for 126 and 125 yards, respectively, and the Lions weathered a late Free State comeback fueled by quarterback Ryan Murphy and wide receiver Nick Ayre. Murphy completed 19 of 33 passes for 246 yards and two TDs. Ayre had a career-high eight receptions for 149 yards.
2006 - Free State 49, Lawrence 15
Free State posted its most lopsided win in the series as Ryan Murphy ran for three touchdowns and threw an 88-yard TD bomb to Craig Rosenstengle, who finished with five receptions for 134 yards. Tony Williams led the Lions with 96 yards rushing on 26 carries.
2007 - Free State 27, Lawrence 0
Craig Rosenstengle threw two touchdown passes, including a 65-yarder to Ryder Werts just before halftime, and returned an interception 24 yards for another score as the Firebirds won back-to-back games for the first time in the series. Free State's defense, led by Werts at linebacker, held the Lions to just 91 yards of total offense.
Copyright 2018 The Lawrence Journal-World. All rights reserved. This material may not be published, broadcast, rewritten or redistributed. We strive to uphold our values for every story published.