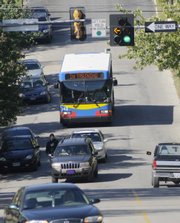 Voters will decide
Voters on Nov. 4 will decide three sales tax questions, two of which are related directly to transit funding. The three questions:
¢ Question No. 1: A three-tenths of a percent sales tax to fund street maintenance, fire trucks, stormwater improvements, an east Lawrence trail project and other infrastructure-related items.
¢ Question No. 2: A two-tenths of a percent sales tax to fund basic transit operations.
¢ Question No. 3: A five-hundredths of a percent sales tax to fund enhanced transit operations. This tax only will be implemented if Question No. 2 also is approved.
When Lawrence Mayor Mike Dever was growing up on the outskirts of Chicago, there was no '68 Camaro or any other sweet ride waiting for him in the garage.
"Anytime I wanted to go anywhere, I had to take the bus," Dever said.
Dever knows there are people in the same boat today. And he's not entirely sure the city's bus system serves them as well as it should.
This week, Dever said the nearly 8-year-old T system has needed a revamping for several years, but the needed political effort to change routes, schedules and polices hasn't been undertaken.
"The reason it hasn't changed is because we haven't taken the time and effort to change it," Dever said. "There was good increases in ridership for a long time. It was kind of out-of-sight and out-of-mind."
That's certainly not the case anymore. Voters will be going to the polls on Nov. 4 to decide two sales tax questions that would provide 10 years worth of funding to the city's public transit system.
Dever led the move behind the two sales tax proposals, and he says - along with the four other commissioners - that if the taxes are approved there must be significant changes to the T.
For months, the talk has been about a merger of the Kansas University and city bus systems. This past week, that talk expanded some to include something less than a merger. The idea of the two systems living on but being much more coordinated also has emerged as a possibility.
Whether it is a merger or simply more coordination, Dever said he expects any city system to have several basic improvements: more hubs, greater frequency of routes during peak time periods, and a serious consideration of alternative fuel buses.
He also believes it is likely that the city and KU buses would operate from a single route map, that riders of both systems would be able to transfer seamlessly between buses, and that the two systems would not run duplicate routes unless high ridership numbers demanded it.
University leaders generally are nodding their head in agreement with Dever's thoughts, but nothing is a done deal yet.
"Anything I say right now is still purely conjecture," said Danny Kaiser, KU assistant director of parking and transit. "It may end up that way or it may not.
"I can say that both sides have a lot of great ideas that we're bouncing around, but they all need fleshed out."
Here's a look at some of the ideas:
Multiple hubs
Dever said any new system should be less reliant on a single hub in Downtown Lawrence. Currently, all but one of the six routes on the T system travel through the downtown hub at Ninth and Massachusetts streets.
"Geographically there are a lot of people a good distance away from the current connection point in downtown," Dever said. "If you are in West Lawrence and want to go south, it doesn't make a lot of sense to go so far east and go to downtown first."
Dever said a new system should include multiple hubs. He said a logical hub would be the KU park and ride lot, which is just north and west of 23rd and Iowa streets. That would allow people who ride the city system to easily connect with the K-10 connector bus that travels from Lawrence to Johnson County.
Other possibilities, Dever said, include a hub in the South Iowa shopping district, which is becoming a more frequent location for apartment complexes that cater to students.
Kaiser said hubs also are being considered for the area near Memorial Stadium near 11th and Mississippi, and near the Kansas University recreation center, near 18th and Maine streets.
Those hubs - combined with the park and ride hub and the downtown hub - would provide transfer points on all sides of the university. People wanting to get to the university could take a bus to any one of the four hubs and have a relatively short trip to the main portion of the university.
"The down side with that system is it would always require a transfer to get to the main part of campus," Kaiser said. "But the tradeoff is that your outlying routes would be able to go out farther into the community."
Routes and frequency
Dever admits that he starts to get frustrated when he has to wait more than eight to 10 minutes for a public transit bus. He knows that level of frequency is the expectation for many urban systems.
He's not sure Lawrence can afford a system that runs with that much frequency at all times. But he said he would like to get wait times down to 20 minutes or less on many of the busiest routes. Currently, many city routes run on 30- to 40-minute cycles.
"I believe you can physically plan around a 20-minute route much easier than a 40-minute route," Dever said. "Right now, if you have to be somewhere and you take the T, you are many times going to be there way early or a little late."
Dever also said he wants to focus on reworking routes to reduce a major complaint he often hears about the T.
"I know the biggest pet peeve of people is that certain times of the day we have ridership that is sorely lacking," Dever said. "But that's because we didn't adjust the routes to the peak time of travel."
Dever said a new system should consider using a "pulse" concept, where the number of buses and the frequency are increased on popular routes during the peak morning and afternoon travel times.
The tradeoff would be that during the mid-day, frequency could be reduced on many routes.
Kaiser said thought also will have to be given to operating two different levels of service: one when university classes are in session and another when they are not. Kaiser said he could envision a set of core routes that would be run regardless of whether KU was in session. But he said another set of routes would be developed for when KU is in session.
"The routes probably would look quite a bit different when the university is not in session," Kaiser said.
Kaiser said transit designers also would have to consider that there may be some parts of town where ridership just is not high enough to make a fixed route system feasible. He said in those areas a demand response system could be developed. That system could require people to call ahead for a ride and could use smaller, vanlike buses.
Different buses
Ah, smaller buses.
That idea has been raised several times by residents at City Hall.
Dever said he can't promise that the city would begin converting its entire fleet to smaller buses. He said he is concerned that going to smaller buses could be a mistake because they generally are not expected to last as long as the heavy-duty large buses.
Dever, though, said he could envision some smaller buses being used to travel routes during the midday, when ridership is reduced.
A larger change for buses could be the fuel that they run on. Dever said hybrid electric buses are a possibility, but he said a more feasible option may be buses that run on compressed natural gas.
The buses at Kansas City International Airport run on compressed natural gas, and Dever has been impressed.
"You can definitely tell a difference in what is emitted by the buses," Dever said.
Dever thinks compressed natural gas also would save the city on fuel bills eventually. But he also concedes there may be some significant up-front costs, such as installing the necessary infrastructure to fuel the buses.
Such issues stop Dever from making any promises that a new bus system will include alternative fuel buses.
That's much the same situation Dever is in on all the issues surrounding the transit system. He can talk about ideas but offer few promises about what the system will look like if the sales taxes are approved.
"What I can promise you is that I'm committed to investing the time, energy and political capital to make changes to the transit system that are real and tangible to the public," Dever said.
Copyright 2018 The Lawrence Journal-World. All rights reserved. This material may not be published, broadcast, rewritten or redistributed. We strive to uphold our values for every story published.