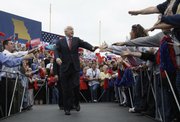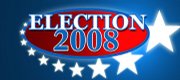 In-depth coverage of the candidates and the issues, all leading up to the Aug. 5 primary and the Nov. 4 general election.
BELTON, MO. — Saying he relished the underdog role, Republican presidential candidate Sen. John McCain told supporters in suburban Kansas City he could make better decisions than his opponent during tough economic times.
"Senator Obama is more interested in controlling who gets your piece of the pie than he is in growing the pie," McCain told the crowd at a rally as he tried to appeal to small-business owners and stress his foreign policy experience in the Senate.
Supporters said they were still confident McCain would win Missouri and several key states on Nov. 4 against Democratic nominee Sen. Barack Obama, who has seen polls in several states tip in his favor during the last two weeks.
"The only poll that matters is the one on Nov. 4," said Mike Todd, a rural Baldwin City, Kan., resident.
Todd, a retail operations manager for the Kansas Lottery who is active with the Douglas County Republicans, took his two children, Michaela, 11, and Ryan, 9, to the rally.
The weekday crowd of 6,000 people gathered at the football field of Heartland High School and Academy. It was much smaller than the estimated 75,000 Obama drew for a Saturday speech in Kansas City, Mo.
"Missouri is a swing state, we need you pushing for this election the last two weeks," Sen. Sam Brownback, R-Kan., told the crowd. "You can get it done. We can get it done."
Most of the people who flocked to the rally hustled to try to grab blue and red pompoms before McCain arrived, so they could wave them when they heard a line they liked. The Republican candidate was mostly among supporters, who cheered lines about "keeping your taxes low."
Deborah Williams, of Grandview, who's an independent leaning toward supporting Obama, showed up to compare McCain's appearance with Obama's speech she saw Saturday.
"I want to hear all about" his plans, she said hours before the speech.
She had also heard that McCain "told funny jokes."
As he came in to music from the movie "Rocky," McCain mentioned a plan to freeze government spending except for defense and other essentials and to give every single American family a $5,000 refundable tax credit to help purchase health care insurance.
His crafted speech included a plan to buy bad mortgages and refinance them "so if you neighbor defaults, he doesn't bring down the value of your house with him."
McCain said Obama's economic plans would raise taxes and restrict trade. "The last time America did that in a bad economy it led to the Great Depression," McCain said.
A Rasmussen Reports poll from late last week listed Obama up by 6 points in Missouri - a state President Bush won twice - even though McCain led in early September.
Williams said she could see a huge turnout on Election Day that favored the Democratic ticket.
But Todd, the Douglas County resident and McCain supporter, said he sensed many voters still were trying to make up their minds, and he said the candidates will start to hone in clearly on the messages.
"When they go into that voting booth, they're trying decide who is going to be able to protect them and get us on a better track to being more prosperous," Todd said.
Copyright 2018 The Lawrence Journal-World. All rights reserved. This material may not be published, broadcast, rewritten or redistributed. We strive to uphold our values for every story published.