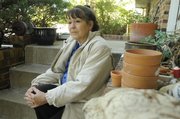 Two years ago, Carol Alvarez was forced out of her home when it was heavily damaged by fire.
Now, she is being forced out again, this time, because of foreclosure. She's seven months behind on payments.
"It's hopeless. It's totally hopeless, and I know that," the 63-year-old retired Lawrence school teacher said.
Alvarez blames her financial problems on her adult son's medical bills. He has diabetes and related medical problems, including possible damage to his liver and kidneys, she said. He has no insurance and can't work, she said.
Although Alvarez also owes more than she can pay in medical bills, she said she decided to focus her efforts in paying them and seeing that he continues to get some medical treatment.
"I chose my son over mortgage payments," Alvarez said. "The house is not a priority."
Mortgage foreclosures are increasing in Lawrence. In August, the rate of foreclosures among outstanding mortgage loans was 0.40 percent, up from 0.20 percentfor the same month in 2007. Consumer credit counselors say more people are having trouble making their payments because other expenses are going up, and one of those expenses is health care.
Medical bill debt is a growing problem for people, even those who have health insurance, said Devon Kim, executive director of Haase and Long Inc., a Lawrence debt collection firm.
People who are insured are looking more like they were uninsured because of very high deductibles and health savings accounts that are not funded, Kim said.
"You end up with someone who looks like they should have coverage, but they are responsible for a large portion of their bill," Kim said.
Much of Haase and Long's business is contracting with hospitals and others in the medical field to collect debt payments. It also collects other types of debts, but it is not the type of firm that harasses debtors with angry late-night phone calls, Kim said. The firm conducts a financial screening to determine the best options for getting a bill paid. Someone might qualify for Medicare disability, for example, she said.
"Our whole approach is solutions-oriented," Kim said. "There's a lot of different ways to look at this."
Paying medical bills is at the low end of the priority list among people who are having economic troubles, Kim said. Because of the national economic situation, she foresees more people having trouble paying their bills, especially utility costs.
"I suspect that (paying) school loans also will start to take the back burner if the economy continues a downturn," Kim said.
The house Alvarez has lived in for 20 years at 2102 Melholland Road will be sold Thursday in a sale conducted by the Douglas County Sheriff's Office. She needs to find a place to live that will allow her to keep her dog and cat. The search is hindered because she doesn't have a car.
Alvarez, who has a part-time job since retiring after 39 years as a teacher, has considered moving to another country. She's thought about Costa Rica, where the cost of living would be cheaper.
"We could get a small place there, and I could afford the medical care," she said. "But I don't want to do that. This is a nice neighborhood. Whoever gets the house will be lucky."
Copyright 2018 The Lawrence Journal-World. All rights reserved. This material may not be published, broadcast, rewritten or redistributed. We strive to uphold our values for every story published.