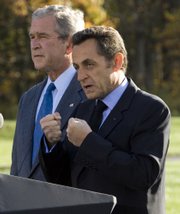 Camp David, Md. — President Bush, looking for answers to an global economic emergency with just three months left in office, will host an international summit to discuss ways to fix the world financial system but warned on Saturday against reforms that threaten capitalism.
"We will work to strengthen and modernize our nations' financial systems so we can help ensure that this crisis doesn't happen again," Bush said at the Camp David presidential retreat.
Bush, meeting with French President Nicolas Sarkozy and European Commission President Jose Manuel Barroso, did not announce a date or site for the summit. But Sarkozy suggested it be held in the shadow of Wall Street before the end of November.
"Insofar as the crisis began in New York, then the global solution must be found to this crisis in New York," Sarkozy said.
The three leaders said they would contact other nations about having a summit in the United States soon after the presidential election, then a series of subsequent summits to address the challenges facing the global economy.
The first summit would focus on progress being made to address the current crisis and "seek agreement on principles of reform needed to avoid a repetition of the problems and assure global prosperity in the future." Later summits, they said, would be designed to implement agreement on specific steps to be taken to meet those principles.
Bush has backed the steps European nations have taken to fix the financial markets and is willing to listen to a range of ideas from both developed and developing nations, but he hasn't signed on to the more ambitious, broad-stroke reforms that some European leaders have in mind.
Copyright 2018 The Associated Press. All rights reserved. This material may not be published, broadcast, rewritten or redistributed. We strive to uphold our values for every story published.