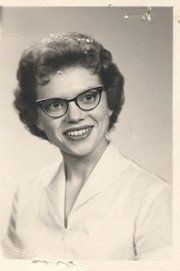 The mood in Sharon Burns-Bohm's Eudora hair salon resembles a living room. People arrive well in advance of their appointments to chat. Others just drop by for a few minutes of conversation.
The amiable atmosphere reflects Burns-Bohm's 50 years in hairdressing. More than 40 of those years have been spent at her Eudora salon, Alley Cuts. She will celebrate her half-century in the hair business with an open house from 1 p.m. to 4 p.m. Sunday at Coffee Talk, 724 Main St., Eudora.
"The biggest thing I've heard people say is '50 years - she can't be that old,'" said Kathleen Brown, who stopped by recently to bring a basket she had decorated for Sunday's celebration.
Indeed, Burns-Bohm doesn't resemble a woman who is 68 years old. Her brown eyes highlight the vitality in her face, and her brown hair only now is beginning to go gray - a point that Brown notes with amazement and jealousy.
'Extended family'
"Maybe it's because I have enjoyed it so much," Burns-Bohm replied. "People have been so great, and it amounts to working with an extended family."
Mary Lou Davis, executive director of the Kansas Board of Cosmetology, said it wasn't uncommon to have a beautician licensed for 50 or more years - but the fact that Burns-Bohm has been practicing the whole time was admirable.
"It's commendable to have someone who's maintained a profession that long, but I think it's doubly commendable that she's maintained a facility for nearly 40 years," Davis said.
Burns-Bohm, who was born and raised in Baldwin City, is a bit surprised at her longevity, as well.
"I thought I'd be dead by now because when you're young, 68 sounds so old," she said.
She went into cosmetology after high school because she didn't have enough money to go to college, yet she wanted to have training in some sort of vocation.
After becoming certified in December 1958, her first job was in Lawrence at the Cut and Curl, which was at 845 N.H. She then worked for a few other salons before opening Alley Cuts in the basement of her home so she could stay home with her children.
Her husband, Elwood Burns, who died about 16 years ago, built the salon in the finished basement of the house. The salon was booked for two years solid soon after it opened in 1966.
Lasting relationships
Many of Burns-Bohm's customers began coming to her out of convenience, but they continued because of the quick friendships that were formed.
Carl Rochester, who said he'd been a customer for about 30 years, jokingly claimed a reason other than friendship.
"I keep coming back because of the candy dish," he said.
Whether he's joking or not, Burns-Bohm said she went to the store that day to buy more candy because Rochester had an appointment.
"I truly love cutting hair, but I really love the people," she said.
But she has not always worked with customers who can reciprocate friendship. One of her first experiences cutting hair was at a mortuary.
During her 50 years as a hairdresser, Burns-Bohm has seen styles come and go. She stays current by attending classes yearly and always enjoys the challenge, although it is a challenge when a customer asks for a style that isn't possible.
"It could be that, of course, you know how to do it, but their hair wasn't made for it," Burns-Bohm said. "There are people that want things that their hair just isn't capable of doing. It's like me wanting to look like Raquel Welch - it just isn't going to happen."
As Kathleen Brown leaves to move on with her day, she reflected upon the bygone days spent with friends at Alley Cuts.
"It was a fun place to come, and we had a lot of good times," Brown said.
"And we still do," Burns-Bohm added.
Copyright 2018 The Lawrence Journal-World. All rights reserved. This material may not be published, broadcast, rewritten or redistributed. We strive to uphold our values for every story published.