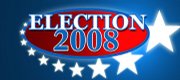 In-depth coverage of the candidates and the issues, all leading up to the Aug. 5 primary and the Nov. 4 general election.
Two Missourians who support Republican John McCain say they were stunned to find charges on their credit cards directed to the Barack Obama presidential campaign - transactions that the Democrat's aides are calling Internet fraud.
Sandy Pogones of Camdenton and Steve Larman of North Kansas City each found a $2,300 charge on their credit card bills recently for the Obama for America campaign. Their credit card companies removed the charges, but both say they are concerned about potential fraud.
A spokeswoman for the Obama campaign in Missouri said the incidents were Internet fraud.
"While no organization is protected from internet fraud - the McCain campaign was forced to refund $1.2 million worth of contributions during the primaries - we monitor closely for incidents like these and work closely with the people affected to refund contributions as quickly as possible," spokeswoman Debbie Mesloh said in a written statement.
John Fougere, a spokesman for the Missouri attorney general's office, said his office was investigating a "handful" of similar reports, but he did not have an exact number.
Larman said he contacted his credit card company after finding the charge. He and his wife, Rachel, also contacted Kansas City-area media because they wanted to alert others to look at their statements, he said.
Larman said the credit card company shut down his online Chase account after he reported the charge. A few days later, he received an e-mail telling him to click on a Chase.com address to update his card information. When he contacted Chase, he was told it was a fraudulent e-mail.
Pogones said she called a phone number next to the $2,300 on her bill and was connected to the Obama for America campaign.
"They asked me if I might have gone to an Obama Web site or something," she said. "I'm a Republican. There is no chance in the world that I or anybody else in my family would authorize this."
Copyright 2018 The Associated Press. All rights reserved. This material may not be published, broadcast, rewritten or redistributed. We strive to uphold our values for every story published.