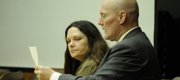 Ramona Morgan was found guilty of killing two men and injuring a third when she drove her truck through a construction zone on U.S. Highway 59 south of Lawrence on Sept. 11, 2007.
The defense attorney for a woman convicted in September of running over and killing two highway workers in 2007 in Douglas County has filed several motions asking the judge to grant a new trial or throw out the verdicts altogether.
A jury convicted Ramona Morgan, 49, of Chewelah, Wash., of two counts of reckless second-degree murder for driving her pickup truck on Sept. 11, 2007, through a U.S. Highway 59 construction zone near Pleasant Grove and striking and killing Ty Korte, 30, of Seneca, and Rolland Griffith, 24, of El Dorado.
She was convicted of aggravated battery for injuring a third worker. In her defense, Morgan said she thought she struck orange barrels and believed people were chasing her.
Morgan's attorney, Billy Rork, of Topeka, has said several elements of the trial unfairly prejudiced the jury against his client, and he has asked District Judge Paula Martin to either acquit his client, dismiss the charges or order a new trial.
Martin has scheduled a motion hearing and sentencing for Nov. 12.
It is common for defense attorneys to file motions asking a judge for a new trial before the sentencing. Rork's motions include:
¢ Asking for the judge to acquit Morgan because prosecutors did not present enough evidence to show that Morgan could have seen the two workers on the road before the impact, especially because her windshield was broken.
¢ Saying that "cumulative errors" created a prejudice against Morgan, including prosecutors admitting a video of a Kansas Highway Patrol accident reconstruction that Rork said was inaccurate and not comparable to conditions Morgan faced as she drove through the work zone. He asked for a new trial in that motion.
¢ Requesting the Douglas County case be dismissed because it amounted to double jeopardy because she was already convicted of eluding law enforcement in Osage County after the wreck. Martin has already rejected a motion similar to this from Rork before the Douglas County trial.
¢ Asking Martin to grant a new trial because the judge did not allow Rork to give jurors a legal definition for Morgan's "state of mind" after they asked her a question during deliberations. Instead, Rork said Martin's written answer to jurors was unfair to Morgan and helped them reach the second-degree murder verdicts.
¢ Also wanting a new trial because he said "it is hard to believe that it was mere coincidence" jurors asked the questions to the judge during deliberations that were similar to a summary of closing arguments from David Melton, a chief assistant Douglas County district attorney, and Rork that were published that morning in the Journal-World. Jurors are instructed not to read, listen or view any media reports during the trial, and it could have prejudiced their decision, Rork argued.
Copyright 2018 The Lawrence Journal-World. All rights reserved. This material may not be published, broadcast, rewritten or redistributed. We strive to uphold our values for every story published.