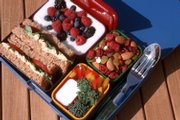 Go Click It
lunchinabox.netRead more about bento lunches, with tips on how to pack a lunch and fill box gaps, how to choose a bento lunchbox and also tips for working leftovers into creative meals.
community.livejournal.com/bentolunch/A community of new and experienced bento lunch enthusiasts compare tips and recipes. Recent entries feature Roast Beef Bagel Bento and Vegetarian Fajita Bento.
When the school year started up again, Lawrence mom Ginger Hodison decided to brown-bag it.
She was tired of her daughters, Rachael, 15, and Amaya, 8, skimping on lunch.
"When they come home, they're starving to death, not only because it's time to eat again, but because they didn't eat as much as they would have if it was something they really liked," Hodison says.
So this year the family is trying something different - bringing a sack lunch.
"It's hard with kids, because sandwiches are pretty much it, unless you have a container to keep things warm," Hodison says. "And they kind of get tired of sandwiches after a while."
That's exactly what got Amy Hemmert thinking outside the lunch box. Hemmert is the co-founder of California-based Obentec, maker of bento-style lunch boxes. She is inspired by her time living in Japan, where health and variety aren't necessarily sacrificed for convenience.
"I think the best thing is to start with your grocery shopping habits and to make sure that you have on hand a wide variety of foods that can be packed easily and quickly," says Hemmert, who recommends nuts and dried and fresh fruit as easy-to-pack options.
She also suggests converting leftovers from a healthy dinner - chicken, a baked potato, vegetables - into lunch.
"But you just need to make sure you plan ahead in terms of quantity," she says.
What is bento?
A bento box, traditional in Japanese culture, is a compact lunchbox which features several compartments just right for fruits and veggies, cheese and crackers, and other small treats. Creating a visuallly appealing lunch is part of bento's appeal. Compartments stack and lock together.
More lunch ideas ...
Schedule your "cold" dinners on weeknights so fresh leftovers pack easily in the morning.
Heart-healthy nuts and seeds add protein for longer-lasting afternoon energy.
Copyright 2018 The Lawrence Journal-World. All rights reserved. This material may not be published, broadcast, rewritten or redistributed. We strive to uphold our values for every story published.