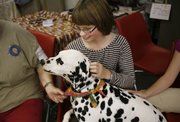 Past Event
More than 1,000 dogs and dozens of breeds will be on display at the Douglas County Fairgrounds.
When: Saturday, October 11, 2008, 7 a.m. to 8 p.m.
Where: Douglas County Fairgrounds, 2110 Harper St., Lawrence
Cost: Free
-->
-->
On the street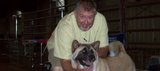 Each breed is different, but I think it's personality. You want a dog that's alert and everyone is looking at. I think that goes for all breeds.
The spotlight was on Dalmatians on Friday during a specialty show of this weekend's Lawrence Jayhawk Kennel Club.
The Heartland Dalmatian Club of Greater Kansas City specialty show at the Douglas County 4-H Fairgrounds included obedience and rally trials for the dogs and owners to strut their stuff.
"They've got a lot of spunk and that's what I like about them," said Nanette Diettrick, a dog trainer who runs Dog Behavior Training in Lawrence.
Diettrick won the Rally Excellent Class with Arietta, a 3-year-old Dalmatian. Diettrick also brought Arietta's daughter, Blossom, who was participating in the novice rally class.
"They are great to work with, especially in the performance classes because they like the jumping and all the other stuff that goes on."
Dalmatians, believed to be from the Dalmatia area of Croatia, were bred as carriage dogs. They are athletic, lean dogs that can run for miles.
Diettrick's affection for the breed - Dals, as she calls them - began with a pet Dalmatian and horses.
Many other dog trainers, like Jennifer Cramer, the show chairwoman, said the breed makes excellent and loyal family dogs. Cramer and her husband, John, a judge and secretary of the show, have been raising and showing dogs for 30 years.
Jennifer Cramer, dressed in a black suit with white details and white heels with large black polka dots, encouraged visitors to check out the dog show this weekend, because they may be surprised at what they could do with their own dogs, she said.
Hundreds of dog breeds will be featured during the dog show today and Sunday. All events are free and open to the public.
Copyright 2017 The Lawrence Journal-World. All rights reserved. This material may not be published, broadcast, rewritten or redistributed. We strive to uphold our values for every story published.