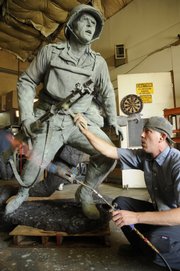 A Lawrence artist is getting more national attention for his latest work.
Sculptor Jim Brothers' newest sculpture soon will join his other pieces at the National D-Day Memorial in Bedford, Va. But before "The Medic" is shipped to Virginia for installation, Lawrence residents will have an opportunity to see it, from 1 p.m. to 5 p.m. Sunday, at the Union Pacific Depot.
"The Medic" depicts a World War II soldier and medic rushing to save the lives of soldiers.
"He's charging around with the idea that he's heard somebody call for him," Brothers said.
Brothers said he was inspired by the stories that veterans told him about D-Day, the June 6, 1944, invasion of Normandy.
"This is my chance to pay tribute to the medics," he said.
The Army men were cast of silicone bronze at Ad Astra Art Bronze Inc., a foundry just outside Lawrence. The piece is hollow but weighs approximately 1,400 pounds. Bronze figures typically are a brownish color, but these are green because of a chemical coating called patina.
"In this case we used the green because they're outdoors, they're near water, and they're going to in time turn green anyway," Brothers said. "We just kind of want to make it even so that it'll gradually turn on its own, but it won't be too splotchy or too uneven."
He spent about a year working on the project, relying on soldiers' stories, photos, uniforms and authentic weapons.
On Monday, Brothers will begin his drive to Virginia, taking "The Medic" and two portrait busts. They will be installed with many of Brothers' other works, depicting D-Day, as well as "The Supreme Commander," a larger-than-life figure of Gen. Dwight D. Eisenhower.
Brothers has been asked whether he believes his art glorifies war. He said the series celebrates peace and remembers the bravery of soldiers.
"These people died and served for us, and we do owe them," Brothers said.
Copyright 2018 The Lawrence Journal-World. All rights reserved. This material may not be published, broadcast, rewritten or redistributed. We strive to uphold our values for every story published.