In the early-morning hours of a late-spring day, a group of soldiers and transport vehicles commenced a journey. Last-minute instructions were given, maps studied and two-way communication tested.
The crew moved east, stopped at a Kansas Turnpike tollbooth for a ticket and left Lawrence under a cover of darkness. Operation "Smooth Blue" was launched, headed for the National D-Day Memorial in Bedford, Va.
Smooth Blue is the nickname of the blue GMC Suburban hauling a 4,900-pound sculpture by Lawrence artist Jim Brothers. A second red Suburban pulled a U-Haul with a smaller bronze piece. A few friends completed the crew.
As the chief sculptor for the National D-Day Memorial to be dedicated this week, Brothers had just completed his latest, largest piece, the fourth in a series of figures for the memorial. At his North Lawrence studio and at Heartland Art Bronze foundry in Lawrence, Brothers for the past three years has devoted most of his waking hours to sculpting a platoon of soldiers for the memorial.
To equip himself for the long journey, Brothers, who has done graduate work in fine arts at Kansas University, immersed himself in his subject. He read Stephen E. Ambrose's "Citizen Soldiers" and "D-Day June 6, 1944," interviewed decorated World War II veterans including Lee Scott of Lawrence, traveled to the beaches of Normandy, France, where the defining battle of the war took place, and assembled authentic clothes, weapons and tools for inspiration.
"I've been living one day for three years," Brothers said. "I've never been so involved in a project before."
From artistic concept to clay to bronze, Brothers takes short steps to complete his works.
"You build a metal armature, then you foam, then you carve," he said. "You set many small goals. If you think about the final goal you'd go nuts."
But the biggest goal has been reached. Wednesday, the 57th anniversary of D-Day, Brothers and more than 20,000 people are expected for the memorial's dedication.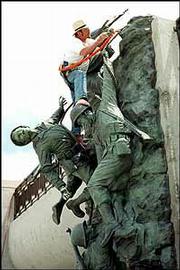 The sculpture brigade from Lawrence held a steady course for their 1,100-mile, 21-hour journey. "I Am a Man of Constant Sorrow," a tune from the movie soundtrack "O Brother, Where Art Thou?" Brothers' current favorite played in the Suburban.
A man of constant worry, Brothers kept his eyes glued on his sculpture, which was being hauled on the trailer in front of him. "I'm not a real religious man," he said, "but I just basically prayed that thing into Bedford."
High price to pay
Bedford, a farming community of 3,200 in the 1940s, has seen its share of sorrow.
On June 6, 1944, 35 townsmen were part of the first assault at Normandy on Omaha Beach. Nineteen of the young Bedford men were killed within the first desperate 15 minutes of battle. Two more died from injuries suffered in the attack, the largest loss of life per capita for D-Day of any town in the nation.
Ray Stevens, a Bedford native, offered to shake hands with his twin brother, Roy, before they launched in different assault boats on D-Day. Roy declined, saying they'd shake hands when they got off the beach.
"My boat sank right off the coast" Roy Stevens recalled. "Ray went on in. I was told he got machine-gunned. It still bothers me that I didn't shake his hand."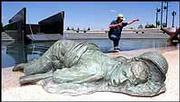 Others in Bedford mourn fallen family members.
"It was such a tremendous loss for this community," said Lucille Boggess, 71.
Boggess was in her mid-teens when her family received a letter before church one Sunday. Her brother, Bedford Hoback, had been killed in the D-Day assault. The next day a second message arrived. That one carried the news that her brother Raymond was missing.
"He was wounded near the water and washed back into the channel and drowned," recalled Boggess.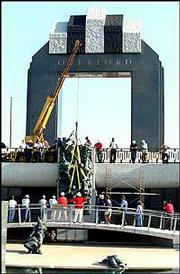 A soldier walking across the beach on D-Day plus one found Raymond's Holy Bible.
"He thumbed through it until he found mom and dad's name and sent it," Boggess said.
"My mom always treasured that. That was the only thing of Raymond's she ever received."
A piece by Brothers, "Death on Shore," incorporated the family's story, depicting a fallen soldier with a Bible and letters spilled from a pack.
"That just broke my heart all over again," Boggess said. "It represented all the fallen soldiers, but particularly of my family's loss."
Towering tribute
Located on the highest ground above Bedford, the 88-acre monument site features a sweeping view of the Blue Ridge Mountains. An area devoted to the monument, designed by architect Byron Dickson, includes a granite arch inscribed with the word "Overlord," the Allied Forces' code name for the invasion. At 44-feet, 6-inches high, it signifies the year and day of D-Day.
The sculpture "Final Tribute" by Baldwin artist Matt Kirby depicts a battlefield grave and stands near the arch.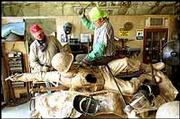 Brothers' statuary is located on a plaza area and beneath the arch in a shallow pool and concrete beach.
His piece "Scaling the Wall" hangs from a wall below the arch and above the pool. On it, Brothers has depicted four Rangers climbing the cliffs at Pointe du Hoc. One soldier leaps over the wall near the base of the arch. Another, in death, defies gravity and is suspended in his fall.
Word of the arrival of new sculptures from their Kansas friend brought Stevens and Boggess to the site.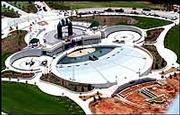 "This is unbelievable, Jim," Stevens said. "It looks so real. Almost like you want to touch it and help the guy."
"You can touch it," Brothers said. "But you can't help them."
"Oh, gosh, this thing is something else," Boggess said.
She put her hand on the bronze, studying the soldiers.
"This is going to be a heartbreaker," she said. "It's going to make the memorial."
The sculptures elicited strong emotional responses from many veterans and family members.
"They want to touch it. They shed a tear," Boggess said. "It reminds you of the fallen men and the tremendous loss of this community. I think he really knows how to get into the emotions all of us were feeling."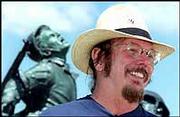 Brothers is gratified by such responses.
"I hold them in such respect," he said of the veterans and their families. "To please them is such a wonderful thing, yet sometimes you'll see they have tears in their eyes. But you also see that you created this emotion. You know you've done your job."
Brothers had never seen "Scaling the Wall" in a vertical position until a crane placed it on the memorial wall.
"Whoa," Brothers said. "That almost makes me cry."
"We built it horizontal. The fact that all of a sudden, instead of being gravity burdened, it defies gravity. I was definitely seeing it for the first time. My gosh, what a mammoth relief."
Additional sculptures are planned, but for the moment Brothers can reflect on what he has accomplished.
"I feel like I'm the luckiest sculptor alive," he said. "How many sculptors ever in their life time will get to do a national monument?"
Despite his three-year involvement with the memorial project. Brothers acknowledges a greater sacrifice.
"I've lived D-Day for a good three years," he said. "But I get to thinking that the veterans are living it for the rest of their lives."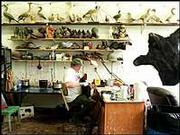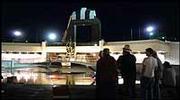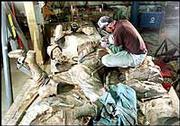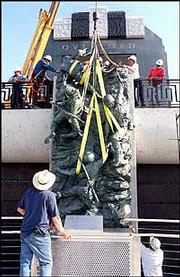 Copyright 2017 The Lawrence Journal-World. All rights reserved. This material may not be published, broadcast, rewritten or redistributed. We strive to uphold our values for every story published.