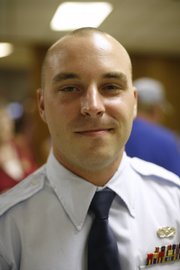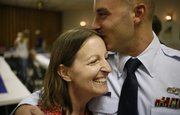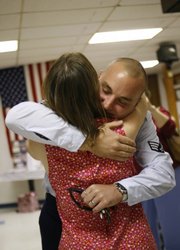 For the past three years, Tammy Ziesenis feels like all she's done is wait for her son.
Her cell phone was always by her side as she waited for a call. She just never knew when she'd hear from him - Sid Pastor III, 26, who was serving his third tour in Iraq in three years.
"Always waiting," she said. "Always waiting to hear. Always wanting to know that he's okay."
His last tour had her and other family members more on edge. Pastor is a senior airman in the U.S. Air Force and works in power production. During his first two tours, he was setting up power at combat outposts and fort operating bases in northern Iraq.
This time, Pastor volunteered to go in place of an Army friend who had just returned from a tour and wanted to spend time with his family. He was traveling throughout southern and central Iraq with Air Force and Army troops.
"Knowing that he's on the road, where sometimes they have bombs that blow up when people drive down the road, knowing that he was doing that was extremely scary," Ziesenis said.
On Saturday, Ziesenis, 47, waited again, for her only child, but the wait was shorter and sweeter.
This time, she was joined by dozens of family members and friends for a surprise party and wedding reception for Pastor and his wife of six months, Nikki, 23, at the Veterans of Foreign Wars Post 852, 138 Ala.
Family stood with small American flags in hand and shouted, "Welcome home," when he entered the door.
"Wow," was all Pastor could say after greeting everyone. "I've never had a reception like that, so it was great."
Pastor joined the Air Force in March 2004 because he wanted to serve his country and wanted some direction in his life, he said.
During his first six-month tour, he kicked around a beat-up soccer ball with Iraqi children. He called his mother and asked if someone could send some new ones for the children to play with instead. Kansas University Athletic Department obliged, his mother said.
He volunteered to work in a military hospital in northeast Iraq in his second six-month tour. He helped unload wounded soldiers from a helicopter into the Balad Theater Hospital emergency room and spent time at their bedside while helping with other duties.
"Anything I could do to help," he said. "Anything to make their life easier there because I just never wanted them to forget that we're here to take care of them because they are giving their lives in some cases, losing limbs, getting hurt, losing buddies, you know, and I didn't want them to think that we didn't care."
"It was an experience," he said. "My dad's always said through every deployment, 'Don't be complacent.' Working at the hospital there definitely helped me remember where I was and the threat that was always around us."
His father couldn't be more proud.
"I always had great expectations of my son, and he's exceeded them all," said Sid Pastor II, a former Navy man who lives in St. Louis. He said he respected and admired his son's choice to take a tour of duty in the place of his friend.
Volunteering to go back wasn't a difficult decision for Pastor. For one thing, he wanted to help a friend relax, he said.
"I wanted to feel like I was earning my money and doing something for a good reason, a good purpose," he said.
Meeting his wife has changed his perspective, he said. They are living together in Abilene, Texas. He's stationed at Dyess Air Force Base.
"I don't think I'll be volunteering anymore, probably," he said. "I'd like that time to relax."
His mother would like that too.
"I told him he's my hero," she said.
Copyright 2018 The Lawrence Journal-World. All rights reserved. This material may not be published, broadcast, rewritten or redistributed. We strive to uphold our values for every story published.