Photo Gallery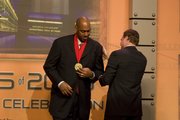 College basketball hall of fame induction
Danny Manning and several others were inducted Sunday into the National Collegiate Basketball Hall of Fame at the Sprint Center in Kansas City, Mo.
Kansas City, Mo. — Twenty years, seven months and 19 days after his last game in a Kansas University uniform, Danny Manning's status as one of the elite college basketball players of all time hasn't been forgotten.
Sunday night, it was cemented forever.
Manning received induction into the National Collegiate Basketball Hall of Fame inside Sprint Center, part of a seven-man class that included former players Charles Barkley and Arnie Ferrin, coaches Nolan Richardson and Jim Phelan and broadcasters Billy Packer and Dick Vitale.
There was a bit of symmetry involved in Sunday night's proceedings for Manning.
His Hall of Fame induction occurred just minutes from where he helped the Jayhawks capture the national title in '88.
The event left Manning — KU's all-time leading scorer (2,951 points) and rebounder (1,187) — feeling nostalgic.
"I think it's all coming back, just reminiscing about the college career, the friendships I developed, me and my wife, playing for a great coach, playing at KU, all those memories just kind of flood back and forth," Manning said just hours before the official ceremony. "It's nice to reminisce. It was fun. That's the bottom line for me, is college is a great experience."
Kansas coach Bill Self introduced Manning at the ceremony and recalled matching up against him on the basketball court in college.
"Danny was obviously a fabulous player," Self said. "I saw that first-hand having an opportunity to play against him when I played the back of a 2-3 zone at Oklahoma State and he went 15-of-16 from the field against us as a freshman. Then, I had the opportunity to towel him off and fetch water for him as a graduate assistant his sophomore year at the University of Kansas."
Self said he had been asked many times who the best player he ever coached was.
"And I never say Danny because I didn't really coach him," Self said. "All I did was just hang out and be there. But without question, (he is) the best collegiate player that I've ever seen in person."
Manning's 31-point, 18-rebound effort in the 1988 national-championship game, which led the upstart Jayhawks over the favored Oklahoma Sooners, still generates awe from his peers.
"There have not been very many games where a player put his team on his back like that and all the role players fit in perfectly," Packer said. "It was quite a show."
Manning earned college basketball's 1988 player of the year award, as well as winning both the Naismith and Wooden Awards. He was named the Big Eight Newcomer of the Year as a freshman, earned three-time Big Eight Player of the Year honors and two-time All-American recognition.
On Sunday, one moment stood out above all the rest from his successful college career.
"The biggest memory for me was after we won the championship, sitting in the locker room with my teammates, just enjoying each other's company and the camaraderie," Manning said. "That's something that sticks out to me to this day."
Barkley, who played with Manning for two seasons from 1994-96 as members of the Phoenix Suns, remembered Manning's versatility as a player.
"Not many big guys can move like that, pass like that," Barkley said. "It was fun to get a chance to play with him late in his career. That was cool for me."
Barkley and Manning also were the two youngest members of the 2008 induction class.
"Obviously I know about all these coaches, but somebody I played with to go in (together), that's pretty special," Barkley said.
In April, Manning saw Kansas claim its first championship since "Danny and the Miracles" pulled the feat in 1988. This time, he did it as an assistant coach on the Jayhawks' bench.
Sunday evening was the icing on the cake to an already sweet seven-and-a-half month stretch.
"This has definitely been one cool year," Manning said.
Copyright 2018 The Lawrence Journal-World. All rights reserved. This material may not be published, broadcast, rewritten or redistributed. We strive to uphold our values for every story published.