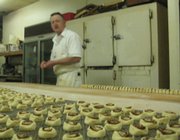 A bell clanks behind Logan Walker as he strolls through the front door of Munchers Bakery with two friends. It's 4:10 a.m. and they have a craving.
"I'm eying the cheesecake," says Walker, a Kansas University senior from Holcomb. "It's kind of a ritual. You can't just come in here wanting one thing."
Munchers, he says, is a "beacon of nighttime bakeries." In fact, it's a monopoly of sorts. Since Joe's Bakery closed its doors about a year ago, Munchers, 925 Iowa, is the last 24-hour bakery in town. And owner Mike Tennyson is no stranger to the late-night bakery racket.
"I have to make this stuff anyway," said Tennyson, who typically arrives at Munchers at 11 p.m. for pastry making. "They'd probably be pounding on the front door if I wasn't open."
Tennyson is one of the few bakers in town who makes the evening commute to begin the dough kneading and bread baking. He pulls up to the shop in his SUV. His license plate? DOHBOY.
He has a routine: throw on the apron, play some Rush Limbaugh on the headphones, knead a few vats of dough, mix a sugar-water lacquer, cut the dough. Then it's let it rise, fry, glaze, repeat.
"It's like anything," Tennyson said. "You put effort into it and it'll look nice and taste good. If you're a painter and people like your work, it's rewarding."
Mikey Humphrey, head baker at WheatFields Bakery Cafe, 904 Vt., knows the feeling. A former art student, he says he sees bread making as a form of sculpture.
"It's a very functional sculpture," he said. "One that you can eat."
Just after midnight, before the baking process begins, Curtis Bost, a mixer at WheatFields, prepares the dough. The recipe hasn't changed much over the years.
"That's kind of what I like about it," Bost said. "The fact that you're making something that isn't all that strange and different, just something everyone's been making for years — it's something that you can actually see the result of making."
Each bun takes between 30 and 40 minutes to bake in a hedge- and Osage orange-wood burning oven. Humphrey says that, in spite of the abnormal sleep schedule, he aspires to turn bread-making into a career, just as monks, farmers and bakers have done for centuries.
But not every baker has intentions of kneading dough forever. Mike Tennyson's grandson Cody Barnes has been apprenticing for about five years at Munchers. At 14 years old, his job includes helping fold doughnut boxes and prep glazed pastries.
Sure, he says he prefers late-night sessions to going to sleep early on weekends, but he's apprehensive about taking over the family business.
Tennyson, who has owned Munchers for 19 years, has worked with his sister, Gayle, for even longer. She's been baking and designing cakes for 30 years — no culinary school, no baking books, just words of wisdom from other decorators.
"It's definitely a family business. Without the family, I don't think it would be a go," she says. "It makes the overnight a whole lot easier."
Copyright 2018 The Lawrence Journal-World. All rights reserved. This material may not be published, broadcast, rewritten or redistributed. We strive to uphold our values for every story published.