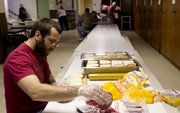 Linda Lassen's involvement with Penn House began shortly after the social service agency opened in 1969. She started as a volunteer and today serves as program director.
So she's seen lots of ups and down in the economy — and in her clients' lives.
This holiday season, Lassen predicts more people will contact organizations such as Penn House for assistance with food, Christmas gifts and paying utility bills.
Penn House, 1055 Pa., operates a free clothing pantry, emergency food bank and emergency utility assistance for people in Douglas County.
"There are new faces I haven't seen before that's come in and applied for Christmas (adoptions) and food," Lassen said.
Penn House has already received 200 adopt-a-family applications from families in need, Lassen said. Families, businesses and other organizations can adopt a family, providing them with food and gifts. Almost half of families have already been adopted.
"I'm actually kind of feeling good because usually I don't get a whole lot of adoptions until after Thanksgiving," she said.
Andrew Brown, director of Human Services programs for Ballard Community Services, an umbrella organization that Penn House falls under, said he expects the number of families that participate in the adopt-a-family program to reach about 400, the same amount as last year.
But, he thinks it may be the first time some of the families have requested help around the holidays.
"We've seen a 10 percent increase in the number of services that we're providing, and we also have seen a lot of new clients that are people whose incomes are much closer to the top of our income guidelines rather than being lower income," he said.
Clothing and food donations are up at Ballard, but monetary donations are down. And that affects the agency's Emergency Service Council, which provides funds to those who cannot pay their rent or utility bills.
"We just have an overwhelming amount of demand for utility assistance," Brown said.
Perhaps the seemingly nonstop news about economic hard times throughout the nation have made Lawrence residents more aware that others need their help.
"I think people have really been aware that it's a time when others who traditionally give might not be able to, so people dig a little bit deeper," he said.
Copyright 2018 The Lawrence Journal-World. All rights reserved. This material may not be published, broadcast, rewritten or redistributed. We strive to uphold our values for every story published.