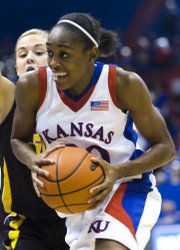 Hmmm … maybe Kansas University's women have a quality point guard after all.
LaChelda Jacobs was clearly the catalyst in the Jayhawks' 76-55 basketball bashing of Iowa on Tuesday morning and afternoon in Allen Fieldhouse.
"She's a kid," KU coach Bonnie Henrickson said of Jacobs, "whose discipline is creeping onto the radar screen. She just makes us better."
More often than not, Jacobs was a non-factor last season, victimized mostly by her inability to adapt to the game's structure. But she was dynamite against the Hawkeyes, with 18 points and six assists, both matching career highs, and three steals.
More important, she was charged with just one turnover during 30 minutes on the floor.
About a month ago, the Jayhawks were devastated when Angel Goodrich, who had been anointed as the starting point guard, suffered a season-ending knee injury. Suddenly, Jacobs was back in the point-guard picture by default. And now she says she's using Goodrich's injury as motivation.
"It's really tough for her," Jacobs said. "When I see her I feel bad for her. I'm just happy I can pick up the slack."
Teammate Sade Morris, who contributed 17 points, believes Goodrich's injury isn't the entire story of Jacobs' resurgence, however.
"I think that helped LaChelda be a better point guard," Morris said, "but I just feel like she has more confidence. I think it's a combination of Angel being injured and (Jacobs) just being mature and ready to take on that role."
Although it doesn't show in the box score, Jacobs also made life miserable for Iowa point guard Kristi Smith, who wound up with only one assist and five turnovers.
"LaChelda's defensive pressure kept Smith in check all day," Henrickson said.
A 5-foot-10 junior from suburban Dallas, Jacobs set the defensive tone, and her teammates chimed in.
"I think they played better defense than a lot of the teams we're going to see in the Big 10," Iowa's JoAnn Hamlin said. "We weren't ready for that. That's why we struggled so much."
Hamlin, a native Kansan (Douglass) who transferred after spending a year at Kansas State, had almost as many turnovers (three) as points (four) before fouling out.
As part of ESPN's marathon college basketball package, Tuesday's game started at 11 a.m. and, on paper, it appears center Megan Skouby was the only Iowa player who received a wake-up call.
Skouby, a 6-6 senior, scored a career-high 33 points, or 60 percent of the Hawkeyes' output.
"Obviously, we didn't have an answer for Skouby," Henrickson said, "but our perimeter defense was outstanding."
Skouby made 10 of 17 shots while her teammates connected on just seven of 28 attempts. Iowa, co-champion of the Big 10 Conference last season, made only one of nine three-pointers.
Also notable: Iowa was charged with 23 turnovers and didn't record a single steal.
"This wasn't a very good performance," Iowa coach Lisa Bluder said, "but a lot of it was that Kansas played excellent defense."
Tuesday's crowd included about 4,000 of the city's elementary school students — Henrickson called it the "screech factor" — and the noise — Bluder called it the "shrill factor" — certainly didn't hinder the Jayhawks' performance.
In fact, Henrickson grabbed a microphone afterward and thanked the students, teachers and parents for coming, saying: "You made this happen for us."
Kansas (2-0) will head east this weekend for its first road game — a Sunday afternoon meeting with Saint Louis U.
Copyright 2018 The Lawrence Journal-World. All rights reserved. This material may not be published, broadcast, rewritten or redistributed. We strive to uphold our values for every story published.