-->
Photo Gallery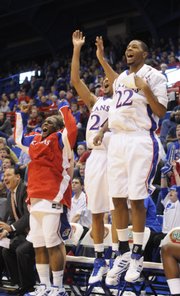 KU men's basketball vs. Florida Gulf Coast
-->
FINAL: KU defeats Florida Gulf Coast, 85-45
Let's get this out there right now: Jordan Juenemann is not your typical walk-on. After grabbing a rebound, he took a couple dribbles before dishing off a no-look scoop pass to Kleinmann, which drew oohs and aahs from the crowd.
After getting fouled, Kleinmann air-balled the first free throw before making the second one.
Following a few more sloppy possessions by both teams, Chase Buford dribbles out the clock and KU improves to 2-0 with a 85-45 victory.
KU 84/FGCU 39 — 2:07 left in game
Aldrich executes a nice high-low pass, feeding it inside to Thomas for a turnaround jumper.
Matt Kleinmann checks in, along with Tyrone Appleton, at the 6:23 mark.
Appleton gets his first point as a Jayhawk, hitting a free throw with 5:48 left.
Releford forces a pass for a turnover, but makes up for it on the next possession, driving under the basket before putting in a reverse lay-in.
Teahan, after missing a three, finally gets one to go down from the corner. Maybe that's the shot that will get him going.
KU 74/FGCU 31 — 7:58 left in game
Markieff Morris gets a roll on a hook shot. Finally, a lucky bounce for a Morris twin.
Another three from the side by Reed. He looks like he's back in a groove again.
Collins dribbles around a pick, then throws in a 10-foot floater off the glass. That gives him 23. He also offers a compliment during a stoppage in play, telling the KU towel girl "good job" after she wiped up some perspiration off the floor.
After dipping his head like a football fullback, Morningstar finishes his drive with a finger roll in the lane.
KU 65/FGCU 26 — 11:01 left in game
Collins uses another quick move to get to the rim for two. Aldrich gets a feed inside and finishes with a slam, then hustles back to the other end for a block.
The Aldrich show continues on the ensuing possession, as he gets the ball inside and puts in a nice, 5-foot hook shot off the glass.
Collins makes his fourth three, and shakes his head in disbelief with a smile as he goes back on defense, surely thinking something like this: "Why are they not guarding me from the outside? Don't they know I'm 4-for-5 from three tonight?"
Collins dishes to Markieff Morris for an easy two inside. That's nine straight points for KU.
Morningstar uses quick hands to get a steal, then dishes to a streaking Aldrich for an uncontested dunk.
Releford makes it look easy on a drive, gliding to the basket for a lay-in off the glass. He's starting to look a lot more comfortable with the ball in his hands.
KU 50/FGCU 20 — 15:23 left in game
Aldrich gets his third foul just 32 seconds into the half after swatting at 6-foot-5 guard Derrick O'Neil. It's the kind of foul Aldrich needs to avoid, as he would have been just fine going straight up defensively. O'Neil would have still had to go up over the 7-footer and would have been shooting an extremely low-percentage shot.
The Morris twins — especially Marcus — just don't have their mid-range games working tonight. Every jumper seems to be rattling out, and Marcus is now just 2-for-8.
Reed hits a three, and that's a good thing for his confidence after he went 0-for-5 from three-point range last game against UMKC.
KU 45/FGCU 13 — Halftime
As the quick-change artists perform at Allen Fieldhouse, let's get to KU's halftime scoring leaders.
Sherron Collins 18 (6-for-8 shooting), Tyshawn Taylor 5, Marcus Morris 5, Cole Aldrich 4, Travis Releford 4, Tyrel Reed 3, Markieff Morris 2, Brady Morningstar 2, Quintrell Thomas 2.
Pretty balanced scoring for KU, which was 16-for-33 from the floor (49 percent). On the other end, FGCU made just three of 25 shots from the field (12 percent). The Jayhawks also had 10 steals in the first half.
KU 45/FGCU 13 — Halftime
Releford shows his athleticism again, as after the ball is batted around on a missed free throw, he elevates above the crowd for a putback.
Collins hits a three from the side when FGCU's defensive players somehow forget about him. He's up to 15 points on 5-fot-7 shooting.
Morningstar drives baseline and puts in a quick layup to push the lead to 39-13.
Reed shows good anticipation on a steal, and a scary moment comes afterward, as he is grabbed from behind while going up for a layup. Reed gets up OK, and FGCU's Addison Smith is whistled for an intentional foul. Reed follows by making one of two free throws.
Chalk up another three for Collins, who held his follow-through up a little longer for show.
On the final possession, Collins shakes his man, then dishes a no-look pass to a waiting Thomas. After getting fouled, Thomas puts in both free throws, and KU takes a 32-point lead into the break.
KU 32/FGCU 11 — 3:59 left in 1st half
Tyrel Reed steps in for a steal of an inbounds pass, and he hits both free throws after getting fouled.
Aldrich comes up with another steal, and after getting a feed from Taylor, Releford shows some crazy ups in going above the rim for a slam in transition. He also was fouled on the play, giving him a little time to scream out in satisfaction along with his teammate Reed.
Marcus Morris swipes the ball away from another FGCU player, and after taking it down the court, he finishes the play with a fast-break layup. KU's defense has been good tonight, but the Eagles also have looked pretty bad in their half-court sets.
Cole Aldrich hits a 17-footer on the secondary break, and KU is on a 14-0 run. Ben Vega finally breaks the scoring drought, hitting two free throws with 4:20 left in the half. The Eagles had gone 4 minutes, 47 seconds without scoring.
KU 23/FGCU 9 — 7:59 left in 1st half
Collins hits a three from the left wing following an offensive rebound by Marcus Morris. The junior guard looks so confident out there with his shot and also with the basketball.
Travis Releford checks in, and exactly 5 seconds later, he picks up a charge on the defensive end.
Cole Aldrich checks back in at the nine-minute mark, and he immediately gets in the action with a slam inside. KU gets a quick steal, and Collins turns it into three points with a layup and foul. He gave a good celebration, too, kicking his knees high up into the air after his basket in transition rolled in.
KU 13/FGCU 5 — 11:47 left in 1st half
Sherron Collins breaks a few ankles with a nasty crossover move, then calmly sinks a 16-footer before backpedaling down the court.
Reed Baker, after getting fouled on a lay-in, gives FGCU its first points at the 15:32 mark.
Taylor is showing much better body control tonight. On a fast break, he maneuvered his body around a defender in mid-air to avoid contact, laying a shot off the backboard to push KU's lead to 10-2.
Just like the UMKC contest, Cole Aldrich picked up two quick whistles, this time in just 3 minutes, 39 seconds. He's been on the bench ever since. KU, though, is playing better this game without him.
After a Quintrell Thomas block, FGCU is 0-for-10 from the floor. Kyle Marks finally put in the first Eagle field goal, a floater in the lane with 12:03 left in the half.
KU 6/FGCU 0 — 15:58 left in 1st half
Markieff Morris turns it over on KU's first possession, but Tyshawn Taylor uses a quick move on possession No. 2 to get underneath the backboard before putting it off the glass for two.
Brady Morningstar shows his value on defense, getting high in the air to block an FGCU shot. The ball glances off an Eagle and goes out of bounds to give KU possession.
Taylor misses a three, but a persistent Markieff Morris grabs the board and puts it back in for two.
On a play almost identical to his brother's, Marcus Morris rips away an offensive board and gets his first basket to put KU ahead, 6-0.
8:03 p.m.
Starters for KU: Brady Morningstar, Tyshawn Taylor, Markieff Morris, Cole Aldrich, Sherron Collins.
7:55 p.m.
After all the lights were turned out, the championship banner ceremony started with a snipet on the videoboard from KU coach Bill Self's pre-game speech against Memphis. The video went on to show highlights from last year's championship game, including "Mario's Miracle" (twice). After some clips from overtime and the celebration afterwards, the banner was uncovered at the north end of the Fieldhouse. A spotlight was shined on the center championship banner, but it probably still could have been seen without the spotlight because of all the flash bulbs going off. The most recent championship banner sits in the middle of the five championship banners (1922, 1923, 1952, 1988) and also above the others by about a half of a foot.
7:34 p.m.
One media member asked Kansas coach Bill Self on Sunday how his team would "bounce back" after its 71-56 victory over UMKC.
So maybe the Jayhawks don't need to bounce back (Self said he wasn't going to apologize for a 15-point win, and I don't blame him), but here are three Jayhawks who wouldn't mind having a bounce-back performance after a tough first game.
1. Marcus Morris It must have been tough for Marcus to watch his brother perform so well in the opener while sitting on the bench with foul trouble. Marcus played just eight minutes against UMKC and never got into a flow. From listening to Self, it sound like he feels Marcus is probably more developed at this point than Markieff, and I'm guessing we'll see some of that tonight.
2. Brady Morningstar After looking so comfortable in two exhibition games, Morningstar appeared timid and nervous in his regular-season debut. Like many of the freshmen, he would be benefited by keeping things simple and not forcing things, especially on the offensive end.
3. Conner Teahan Teahan's biggest strength is his stroke from the outside, but lately, those shots haven't been falling. Teahan said a week ago that he feels better now shooting the ball than he has at any point in his life. Hopefully for Jayhawk fans, he'll start to see those shots carry over into the games.
7:00 p.m.
Welcome to the Newell Post Live, coming to you live from Allen Fieldhouse where the Kansas Jayhawks are getting set to take on Florida Gulf Coast in the CBE Classic.
FGCU comes in as a virtual unknown, as the team returns just two players from last year's team that finished 10-21. I do have knowledge, though, that most of the Eagles are Eminem listeners, as they were group singing "The Way I Am" earlier today at Allen Fieldhouse while I was walking by.
The Eagles look to be one of those teams that are happy to just to be at the Fieldhouse, as evidenced by the picture on their men's basketball Web site. I was trying to think what the fan response would be at KU if the Jayhawks played an away game at Duke, but the day before made sure to take a group picture on top of the "D" at mid-court, just to show they'd been there. I'm guessing KU alums wouldn't take that too well.
If you look closely, some of the Florida Gulf Coast players are indeed smiling. Just thought it was something interesting.
Keep checking back, as we'll have some polls, along with more analysis and observations from courtside as the game gets closer.
Copyright 2018 The Lawrence Journal-World. All rights reserved. This material may not be published, broadcast, rewritten or redistributed. We strive to uphold our values for every story published.