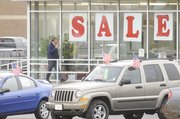 It's a buyer's market out there.
Despite all the gloom and doom talk about the economy, now is a good time to buy just about anything, including cars, houses and even stocks, Lawrence business owners and financial advisers say.
"I've been doing this 52 years and I've never seen a better time to buy a new or late-model car," said Junior Brubeck, owner of Jim Clark Motors, 2121 W. 29th Terrace.
The housing market has been in decline for months but that also means that prices drop. Real estate sales run in cycles, said Thomas Howe, president of the Lawrence Board of Realtors' Board of Directors.
"We're kind of at a low point in one of those cycles," Howe said. "Inevitably, in three or four years people will look back and say, 'I should have bought something in 2008.'"
The stock market has been in a decline since early October. It could continue to drop, but now is a better time to buy stocks than it was a year ago when prices were considerably higher, said Andrew Garrison, investment adviser at Ameriprise Financial, 1321 Wakarusa Drive.
"History has shown that you buy after a big decline," Garrison said. "It goes counterintuitive to what we think sometimes, but you see the biggest gains over the medium term after big declines."
Ameriprise works to get its clients "balanced up," which means they have a good mix of stocks and cash, Garrison said. The investments are periodically rebalanced. If someone has half of his or her investments in bonds and half in stocks then there can be some reallocation depending on risk tolerance and which markets are doing better, he said.
For people who have a job and aren't deep in debt, there is money available to borrow for house or car purchases.
"If you pay your bills and have good credit, we have no problems," Brubeck said. "We've got plenty of money for people."
Miles Schnaer, owner of Crown Automotive, 3400 Iowa, agreed.
"Dealers are motivated to sell cars and we have the financial institutions to do it," he said.
In some cases a better credit rating is necessary than in the past when buying cars and houses. "The lending market over the past several years has been out of whack and now it's just coming back into equilibrium," said Howe, of Reece Nichols ACRES Realty, 1127 Iowa.
Despite the good deals available on cars, both Brubeck and Schnaer are concerned about what's happening nationally in the automotive industry. Both said the troubles plaguing the industry are the worst they've seen.
They said the big American carmakers will need some form of help from the federal government to get through the current crisis.
"Philosophically, I don't like that, but certainly we've got to do something," Schnaer said.
Copyright 2018 The Lawrence Journal-World. All rights reserved. This material may not be published, broadcast, rewritten or redistributed. We strive to uphold our values for every story published.