Audio Clips
2008-09 KU-UMKC basketball
-->
Photo Gallery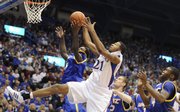 KU vs. UMKC
-->
-->
10:30 p.m.
Kansas final point totals
Sherron Collins 16, Cole Aldrich 13, Tyrel Reed 12, Tyshawn Taylor 7, Markieff Morris 7, Travis Releford 6, Brady Morningstar 5, Quintrell Thomas 3, Marcus Morris 2.
Other notes
¢ KU finished 1-for-13 from the three-point line (8 percent).
¢ KU ended 23-of-48 from the field (48 percent) and made 24 of 37 free throws (65 percent).
¢ Markieff Morris had 15 rebounds, the most in a debut game since at least 1989. Only two other players since then have recorded double-digit rebounds in their first games: David Padgett (10) in 2003 and Wayne Simien (11) in 2001.
FINAL, KU wins 71-56.
Releford shows a smooth move in the lane, taking a couple dribbles before gliding to the rim for a finger roll. He also picked up a steal on the previous UMKC possession.
Aldrich gets on the floor to help KU corral an offensive board, and he gets rewarded a few seconds later, getting an entry pass and drop-stepping for a thunder dunk. Suddenly, KU's lead is up to 71-52.
UMKC hits two more meaningless baskets, and KU comes away with a 71-56 victory to open the year.
3:59 left in regulation, KU leads 62-52.
After two UMKC free throws, Taylor goes back to bad habits, jumping into the air without knowing where he's going with the ball. He's called for a charge, his fourth foul.
Reed is fouled on a fast break drive, and he makes two free throws.
Markieff Morris pulls down an offensive rebound, and he's really been a force on the boards for KU. That was his 14th rebound, including 11 on the defensive end.
Markieff Morris grabs another defensive board, then throws an overhead touchdown pass to Cole Aldrich on the other end. After a dribble, Aldrich rattles the rim with a ferocious jam, and KU is up 62-49.
UMKC's Hailton hits a three from the top to cut the deficit to 10.
7:28 left in regulation, KU leads 57-47.
Travis Releford comes up with two good possessions for KU. On the first one, he grabbed a rebound and raced to the other end, feeding Collins for a two. About a minute later, he stole the ball, then worked around a defender on a drive for a layup.
Some sloppy play by both teams follows with plenty of turnovers, including a three-second in the lane call that Markieff Morris didn't appreciate.
UMKC keeps jacking up threes, but they aren't falling any more. The Roos are now 7-for-25 from deep, which means they have made just three of 11 in the second half.
Collins drives in for a quick two to push KU's lead to double figures at 57-47. He has 16 points on 6-of-10 shooting.
11:28 left in regulation, KU leads 51-44.
Aldrich gets a dunk inside before UMKC's Daniel Brady puts in a layup.
Taylor follows with a lay-in, then ignites the crowd by using his quickness to steal the inbounds pass and lay in another two.
Brumagin follows with another tough three, and the Roos won't go away.
After a timeout, UMKC comes out in what appears from the baseline to be a 1-3-1 zone. Morningstar misses a jumper from the baseline, but after a Brumagin miss, Taylor is fouled on a lay-in and makes one of two free throws. KU gets an offensive rebound on the miss, and Aldrich follows with a tomahawk jam in the lane. KU has been a much better team in the second half with him in there.
Hamilton hits a jumper, but Collins goes coast-to-coast for a layup to get the points right back.
15:44 left in regulation, KU leads 40-35.
Following a Brumagin three, Aldrich hits a jumper from the circle and is fouled. After two lane violations on UMKC (Aldrich does a quasi-pumpfake on his free throws), Aldrich hits his third free throw to tie the game up.
UMKC's Spencer Johnson picks up his third and fourth personal fouls in the first 93 seconds of the half, meaning he'll have to sit for a while.
Reed hits a leaner from 15 feet, and KU takes its first lead since the first minute of the game.
Reed follows with a tough bank shot in transition, which brings even the west-side fans to their feet.
Markieff Morris comes up with a nice block off the glass, and Taylor is fouled on a sprint up the court. He makes one free throw, and KU is on an 8-0 run.
Halftime, Game tied 32-32.
Kansas scoring
Sherron Collins 10, Tyrel Reed 6, Brady Morningstar 5, Markieff Morris 5, Quintrell Thomas 3, Marcus Morris 2, Tyshawn Taylor 1.
Other stats of note
¢ KU is 1-for-11 from three-point range. UMKC is 4-of-14 from beyond the arc.
¢ KU is 15-for 21 from the free-throw line. The Roos are 6-of-11.
Make sure to vote on the new poll on the left.
Halftime, Game tied 32-32.
Brady Morningstar gets fouled on a move to the basket, and he makes one of two free throws.
Teahan picks up his second foul, and he joins Aldrich, Taylor and Marcus Morris with two personals.
After getting fouled on a rebound, Morningstar adds two more free throws to cut UMKC's advantage to 27-25.
James Humphrey hits a layup for the Roos, and Reed misses another three (KU is now 1-for-9 from deep).
Markieff Morris makes a poor decision on a pass inside for a turnover, and Mushatt hits a floating shot off the glass to push the Roos' lead back to 31-25.
KU's been running a lot of the weave up top, going to a smaller lineup with Teahan playing the four and Markieff Morris manning the five.
Collins hits two free throws after getting fouled on a jumper, and on the other end, Teahan picks up his third foul on a push inside. Travis Releford checks in for his first regular-season action as a Jayhawk.
Reed leaves another three short, and Releford keeps it alive for Markieff Morris, who is fouled on the way up. He makes one of his two free throws.
Markieff Morris hits two more free throws after getting fouled on a defensive rebound, and he makes both foul shots.
Collins gets a steal on the last possession, and Markieff Morris makes an unselfish play on the break, dishing off to Morningstar for a lay-in with 3 seconds left to make it a 32-all tie at the break.
3:54 left in first half, UMKC leads 26-22.
Scot Pollard is in attendance, and he receives a loud round of applause when he is shown on the video board.
Markieff Morris shows some good aggressiveness, holding a strong post-up before drawing a double team and making a nice pass across the lane to an open Thomas. After getting fouled, Thomas makes the two free throws to trim UMKC's lead to 21-19.
UMKC is called for a loose-ball foul (the team's 10th foul of the half), and the Roos look a little frustrated with the tight officiating. Markieff Morris puts in both free throws to tie the score at 21 and re-invigorate the crowd.
Brumagin follows with a tough, guarded, fall-away NBA three, and after a Reed missed three (KU is 1-for-7 from beyond the arc), it's becoming obvious that UMKC is content to sag back on defense to let KU try to beat it from the outside.
After a running lay-in from Fred Ford, Self calls timeout to regroup.
Collins misses another trey, but Thomas gets the rebound and is fouled on the way back up, making one of two free throws.
Taylor is called for his second charge on a drive, and he gets a scolding on the court from Collins, who tells him to pass the ball back outside.
7:56 left in first half, UMKC leads 21-17.
Reed breaks open for a layup inside, and after a UMKC turnover, Collins is fouled on his way in for a lay-in and makes one of two free throws.
Tyshawn Taylor adds another free throw after getting bumped on his way to the rim, and Collins follows with a pull-up jumper and a few enthusiastic claps to get KU with one at 16-15.
Hamilton puts in his second three, but Collins follows with a long two.
Collins later drops a pass from Taylor that would have given him an easy two, and the junior guard slams the floor twice in frustration. It's his third turnover already.
11:35 left in first half, UMKC leads 15-9.
KU has two baskets taken away on questionable charge calls, as Marcus Morris and Sherron Collins are both whistled for offensive fouls. Cole Aldrich also has two early fouls, so the Jayhawks will have to see what they can do inside without their big man.
Markieff Morris misses a three badly from the wing, and KU's offense looks out of sync.
Marcus Morris follows with an easy two off an nice pass from his twin, but a hook shot on the other end keeps UMKC's lead at four.
Marcus Morris picks up a second offensive foul in transition, and he joins Aldrich on the bench as Conner Teahan checks in.
Tyshawn Taylor, after forcing a steal, fouls Latreze Mushatt on a three, and the 6-foot-5 forward makes two of three freebies.
Teahan has already missed two threes, and the Jayhawks are struggling with their stroke.
15:56 left in first half, UMKC leads 11-7.
Sherron Collins starts the season with a three from the left wing, and he nods a few times with a smile as he backpedals down the court. UMKC quickly throws a zone on KU, and Tyrel Reed hits a shot from the elbow on the second possession.
The Kangaroos make threes on their first two possessions, and Trey McKinney-Jones follows with an 18-footer to give the Roos a brief 8-5 lead.
Reed follows with his second jumper, and the Jayhawks show some full-court, man-to-man off the made basket.
After a second made basket by Spencer Johnson, UMKC opens an 11-7 edge. The Roos haven't been intimidated so far by the hostile environment.
7:34 p.m.
Starters for tonight: Quintrell Thomas, Brady Morningstar, Cole Aldrich, Sherron Collins and Tyrel Reed.
7:27 p.m.
Some quick facts about UMKC.
¢ The Roos lost their season-opener to North Dakota, 61-56, two days ago at home.
¢ Six-foot guard Reggie Hamilton led UMKC in scoring that game, posting 22 points and also going 4-for-7 from behind the three-point line.
¢ Dane Brumagin is the leading scorer from a year ago, as he averaged 17.9 points per game. He had 11 points against North Dakota.
7:20 p.m.
No empty sections tonight. The Fieldhouse is packed to the rafters, and things look like they should for the defending national champions.
7:10 p.m.
Here are some things to look for in tonight's game against UMKC.
Will KU's bigs be able to defend UMKC's smalls? Early in the year, the Jayhawks will have a lot of matchups like this, where some bigger players like Cole Aldrich will have to go against undersized forwards like UMKC's 6-foot-4 Dane Brumagin. We'll see how the big men respond defensively and if they will have the speed to stick with some smaller opponents.
Jitters again? KU's freshmen showed some nerves in the first exhibition game against Washburn. Will they be more settled down in their first regular-season game at Allen Fieldhouse? We will see.
What's the rotation? KU coach Bill Self has often talked about ideally getting an eight- to nine-man rotation. So who gets left out tonight? So far, we've seen 10 to 11 players getting significant minutes, so we'll see who emerges in that top rotation tonight.
6:35 p.m.
Welcome back to the Newell Post Live, coming to you from Allen Fieldhouse where the Kansas men's basketball team begins its national title defense with its season-opener against UMKC.
We'll have some pre-game analysis, along with polls and live game updates and analysis throughout the night, so be sure to check back. For now, though, make sure to vote in the poll on the left.
Copyright 2018 The Lawrence Journal-World. All rights reserved. This material may not be published, broadcast, rewritten or redistributed. We strive to uphold our values for every story published.