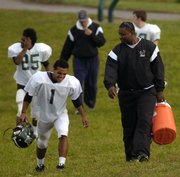 Past Event
When: Sunday, November 16, 2008, 5 p.m.
Where: Free State High School, 4700 Overland Drive, Lawrence
-->
-->
Jesse Brinson doesn't wear a cape. Or tights. Or some silly mask that only covers half his face.
But he's a hero.
Any way you cut it, he's hero material. He doesn't have superpowers, but he does have a supersized heart, uncommon dedication and an attitude attuned to overcoming life's obstacles.
And Sunday, he'll head up the Night of Heroes, organized by Morning Star Church at 5 p.m. at Free State High School. The event is meant to reach junior high and high school boys with a simple message: Be a hero to your generation.
That's an opportunity Brinson feels he didn't seize as an adolescent. Instead, he filled his younger years with drugs and gangs before finding sports and religion.
But now, at age 27, the youth pastor and sports coach won't miss out on a single chance to help a child - in church, on the field or in of everyday life.
In the beginning
Like many heroes - super or otherwise - Brinson didn't start out that way. A youth director at Midwest Student Ministries, and an assistant football coach at Free State, Brinson's life began in a much less wholesome place.
As a child living in a knock-down neighborhood in Houston, Brinson grew up much faster than any kid should.
"At 12, I started smoking drugs, and at 14 I started selling them," he says. "And my life basically became surrounded by whether it was going to be drugs or sports. And then I kind of decided (doing) drugs wasn't obviously going to be my route. The way I'd seen other people end up ... that's not what I wanted to do."
He chose sports. He excelled in football-happy Texas, but he wanted to get away. He decided his college experience should be far from Houston. In 1999, he came to Kansas University and walked on to the football team as a fullback and linebacker.
He'd moved hundreds of miles away from his old life, but his transformation was just beginning. Brinson was a young man, paying his way through college, working hard to get playing time and focusing on getting degrees in English and African-American studies.
That's when he found the Lord.
He connected with Morning Star Church and began to redefine his relationship with God and how it affected his obstacles - the former drug life, the financial hardships of paying for school, everything life threw at him.
"Another friend of mine likes to say everyone loves a testimony but nobody loves a test. Jesse is a person that has been tested earlier on in his life and even throughout college," says Morning Star pastor John McDermott. "It was just overcoming obstacles to finish his degree at KU and to play football and even out of school, just the obstacles that have come before him that he has overcome to do what he's been able to do."
And that ability to overcome began inspiring those around him.
"Overall, his life is such an example of heroism but also just the strong conviction inside of him because of his relationship with Christ," says friend Dan Coke. "His life is significant in that despite circumstances, despite the challenges that he's faced, I've seen him face a lot of challenges, a lot of things that I, honestly, may have given up if I had to endure such challenges. But he kept going."
Big brother
Soon, it wasn't just his story that was passively inspiring others, it was Brinson himself who was actively working to make a difference.
He took time off football to concentrate on his degrees and ended up at different recreational centers around town, helping children.
"I can remember one specific incident where I was sitting, waiting, for my Knicks to play basketball, and a little girl seemed like she was struggling over some math homework she was doing. ... And I kind of began tutoring her without her even inviting me," Brinson says. "I kind of thought about that one and I was like, 'I think, maybe that's something I should look into doing because ... I always wanted someone to mentor me or to challenge me. That's what I'm going to try to do.'"
Soon, he began coaching and helped develop Midwest Student Ministries through Morning Star Church. On the field and at church, he took up positions that helped him connect with kids at an age when they can veer into any number of paths - junior high and high school.
"He is definitely the man for that crowd. They love him, he loves being around that age group," Coke says of teens. "He is able to communicate that and inspire those kids. I think the kids just are really inspired, just from their relationships with him that feel like, 'Wow, this guy has the ability to encourage me.'"
Then, two years ago, Brinson went one step further. He, along with his wife, Torrie, became the legal guardians for two teenage brothers, Aundre Allen and Shawn Knighton. Aundre is now a junior at Free State and plays on the football team, while Shawn is a ninth-grader at West Junior High School.
Brinson says he hopes Aundre and Shawn, as well as his 1-year-old, Zebadiah, and the kids he interacts with on the field and in church will learn from him about faith and courage. McDermott says from what he's seen, there's no way youngsters can be around Brinson without gleaning that message.
"I think his faith shapes his world view and is the reason why he does what he does. I don't think he's motivated to be a coach to work, to one day become a high-profile coach. I think he's a coach because he realizes the difference that it can make in the lives of young people. He's a very compassionate person," McDermott says. "I think that he doesn't think of it in terms of being a hero. ... But his relationship with the Lord helps him make the right decision every day."
Copyright 2018 The Lawrence Journal-World. All rights reserved. This material may not be published, broadcast, rewritten or redistributed. We strive to uphold our values for every story published.