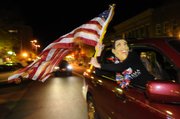 Photo Gallery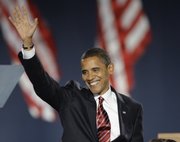 President-elect Barack Obama addresses crowd in Chicago
It wasn't quite the same as the celebration after Kansas University won its basketball national championship, but it came close.
Bells were ringing, flags were waving and car horns were honking in Downtown Lawrence after Barack Obama promised supporters that "change has come."
As the clock struck midnight Wednesday, a growing mob of people paraded their way northbound down the middle of Massachusetts Street.
About hundred Barack Obama supporters were in the streets, waving signs and American flags at drivers, acting goofy and screaming victory in celebration of his win.
Several Lawrence police officers responded to downtown to keep an eye on the gathering..
Copyright 2018 The Lawrence Journal-World. All rights reserved. This material may not be published, broadcast, rewritten or redistributed. We strive to uphold our values for every story published.