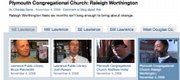 Voters throughout Douglas County share their Election Day thoughts.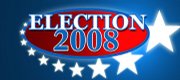 In-depth coverage of the candidates and the issues, all leading up to the Aug. 5 primary and the Nov. 4 general election.
Photo Gallery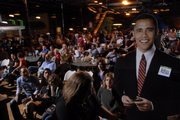 Election night in Lawrence
-->
-->
-->
Democrat Tom Holland unseated incumbent Republican Roger Pine in the state Senate's 3rd District during Tuesday's general election.
Holland of Baldwin City, captured a total of 18,398 votes for 48 percent of the vote in Douglas, Jefferson and Leavenworth counties. Pine received 17,523 votes for 46 percent, followed by Libertarian Patrick Wilbur with 5 percent and 2,058 votes.
"I'm just extremely pleased and delighted that the residents of the 3rd District are going to give me the opportunity to represent them," said Holland, who since January 2003 had represented the 10th District in the Kansas House.
Holland said both he and Pine worked hard and ran aggressive campaigns but he also thinks this was "a Democratic year."
Pine, who had held the Senate seat since 2005, said he was disappointed about the loss. He thanked his supporters.
"There are an awful lot of good people who helped support me in many ways," he said.
Pine came under fire in the campaign when documents listed him as living at a rural Lawrence residence when he also had a home in rural Linwood, both in his Senate district. He said he believed until the August primary election that he could choose to vote in either election "until I was told otherwise." He then reregistered to vote in Leavenworth County.
Pine declined to say if the thought the controversy over his residency hurt his re-election bid.
"There were a lot of things that didn't help," he said. "I've been very positive about how I approached this, and I'm not turning negative now."
Copyright 2017 The Lawrence Journal-World. All rights reserved. This material may not be published, broadcast, rewritten or redistributed. We strive to uphold our values for every story published.