Photo Gallery
Kids Voting in Douglas County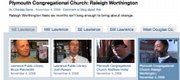 Voters throughout Douglas County share their Election Day thoughts.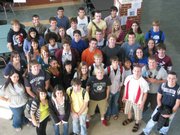 -->
Photo Gallery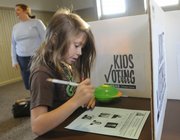 Voting in Lawrence
Lawrence residents take to the polls to cast their ballot.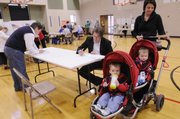 Breaking Political News
Want to be among the first to know about news on the Nov. 4 election? As soon as results are in, or whenever breaking political news happens, the news will be in your e-mail or on your cell phone - you choose.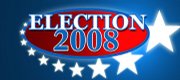 In-depth coverage of the candidates and the issues, all leading up to the Aug. 5 primary and the Nov. 4 general election.
4:50 p.m. Adults weren't the only ones making voting decisions on Tuesday.
Kids Voting USA had precincts for students set up at regular polling places throughout Douglas County. Dozens of students joined their parents in voting.
By the end of the night, their results will be reported as well. Take a look at some pictures from Kids Voting, here on this page.
4:10 p.m. TONGANOXIE - Mark Padfield was worried he would not be able to vote and make it to his job at Tonganoxie High School on time.
He showed up at his polling site, the Tonganoxie VFW Post Home, at 6:40 a.m., 20 minutes before the polls were to open. When he arrived, he had to find a spot in overflow parking.
"I was very surprised that the number of people in line already," Padfield said. "I expected a handful of people but not 45 in front of me."
Padfield was able to leave the polling site about 7:40 a.m and made it to work on time.
Leavenworth County Clerk Linda Scheer said Tuesday "everything has been running smoothly."
She noted some problems have come up because people aren't seeing the "Thank you for voting" screens, because the screen goes by so quickly and voters don't realize they have completed the ballot.
- Shawn Linenberger
3:55 p.m. File this one under Election Day "good" news.
A group of Free State High School students were able to vote for the very first time this year.
After they voted, the school gathered them together for a group photo. You can see that photo on this page.
3:45 p.m. U.S. Senate Democrats and Republicans are both expecting to see Democrats add to their slim majority, the Associated Press is reporting.
Democrats were optimistic that the only two Democratic senators who will lose their Senate seats as a result of the national elections will be Barack Obama and Joe Biden.
And if the Democratic presidential ticket prevails, Democratic governors in Illinois and Delaware are sure to appoint Democrats to replace them.
The article continues to say that Democrats are expected to add to their majority, but it will be difficult - but certainly not impossible - for them to get a filibuster-proof 60-seat majority.
3:32 p.m. Those who know KU football coach Mark Mangino know he's not one to devote a whole lot of time to things other than football.
At his weekly press conference this week, however, he spent five minutes talking about how important it was for his student-athletes to vote. You can see that video on the left of this page.
He said he'd encouraged his students to visit their polling places - or vote absentee if they're from out of state - and exercise their constitutional right.
He did say, however, that he wouldn't be encouraging his out-of-state players to be going to vote.
There's a game to prepare for.
3:17 p.m. If you haven't checked out our Election Day video project, I'd really encourage you to spend a few moments there.
We've got dozens of videos of your fellow citizens as they exercise their constitutional duty to vote. There are Republican and Democrats, pro-T and anti-T voices.
Spend a few minutes listening to what they're saying. And feel free to add your voice.
Send me an e-mail with your thoughts - in words or video - on Election Day 2008.
3:09 p.m. By 2:45 p.m., 305 people had cast ballots at Checkers, 23rd and Louisiana streets.
Store owner Jim Lewis said that number is much higher than in previous elections.
3:01 p.m. There was no waiting to vote at 2:45 p.m. at Mustard Seed Christian Fellowship, 700 Wakarusa Drive.
So far, about 660 people have cast their ballots in the 18th precinct where there are 1,774 registered voters. When voting first began, poll workers said the line was to the parking lot and they were very busy until about 8:30 a.m.
Since then, there has been a fairly steady stream.
- Karrey Britt
2:20 p.m. In Johnson County, where voters will decide whether to approve a new sales tax to support research and education at Kansas University Medical Center and KU's Edwards Campus, registration is breaking records.
But no one really knows by how much.
Sarah Horn, a Johnson County elections official, said there were more than 363,000 registered voters in the county. It's that more than, though, that's a little squishy.
"I have the number in the computer, but I haven't been able to work with them," Horn said. "There's just too many things to be done."
Things did seem to be going well at the polls, she added. Much of that could be because of the number of county residents who voted in advance.
Horn said more than 86,000 residents came to early voting sites and another 60,000-plus mail-in ballots were issued. She had not had an opportunity to update the number of returned mail-in ballots, she said.
12:34 p.m. For Jamie Shew, this is the first election he's overseen in which his name is on the ballot.
"Having no opponent has made it less stressful," said Shew, running unopposed as a Democrat.
Shew, who took office four years ago, said he did his best to avoid campaigning on behalf of other candidates.
"You walk an interesting line," Shew said. "You're elected on a partisan basis, and as a county clerk, you try to be as nonpartisan as possible."
One way to avoid openly taking sides: "I don't put signs up in my yard."
Another sign of his efforts: Both of Shew's deputies, Keith Campbell and Marni Penrod, are Republicans.
12:19 p.m. Jamie Shew still expects voter turnout to approach 80 percent by the time polls close tonight in Douglas County.
Shew, the county clerk, said late this morning that the majority of the county's 67 polling sites each had reported seeing 150 to 200 voters from 7 a.m. to 8 a.m., the first hour of voting.
"That's a couple of voters per minute," he said. "We're running two lines. Things are going really well. We were very busy early this morning, and things have kind of leveled off."
Polls remain open until 7 p.m. tonight.
Advance voting already has generated strong voter response, Shew said. Advance turnout has approached 22 percent of more than 80,000 registered voters, when combining ballots cast in advance with ballots mailed out by the clerk's office for be completion in advance.
Of ballots mailed out by the clerk's office to be completed, 73.3 percent already had been received by the clerk's office by the end of accounting Monday night.
Voters who still have ballots to be returned still have until 7 tonight to get them to the courthouse.
- Mark Fagan
12:03 p.m. A minor glitch was reported in Wakarusa Township: Some residents showing up this morning to vote found themselves with ballots that didn't quite look like the others going to their fellow township neighbors.
Turns out some "fed service" ballots - ballots printed 45 days in advance, to be sent to military troops and other federal personnel serving elsewhere - had been mixed in with some of the regular ballots, said Jamie Shew, county clerk.
The mixup meant two or three voters this morning had to go ahead and vote using the fed service ballots, which have all the same candidates as other ballots. The only material difference: They can't be counted by machine.
Thus, the completed ballots went into the "emergency box," reserved for ballots that will need to be counted tonight by hand.
Today's "fed service" issue appeared to affect only township voters who would be electing a member to the Baldwin City school board, Shew said. Shew said the presence of "fed service ballots" was the only issue with ballots that he was aware of in Wakarusa Township.
11:53 a.m. A representative at the Douglas County Clerk of the District Court said that for jurors looking to vote, there should be ample opportunity today.
A lunch break is provided and court sessions will have concluded by 5 p.m. Judges in individual courtrooms can also work with extenuating circumstances on an individual basis to allow jurors to vote.
- Andy Hyland
11:14 a.m.Lawrence High School had more than 100 voters cast ballots by 8:30 a.m. Cornerstone Baptist Church saw 65 voters in the first hour of voting.
John McCain has also cast his vote at a precinct in Phoenix.
The Associated Press reports:
McCain stepped out of a sport-utility vehicle Tuesday morning with wife Cindy as a small crowd cheered "Go, John, go!" and "We love you!" One person carried a sign that read, "Use your brain, vote McCain!"
McCain signed a poster and gave the thumbs-up sign before leaving without speaking to reporters.
10:52 a.m. If you have a few minutes, check out this video project we'll be adding to all day.
We've committed to interviewing voters at all 67 polling places in Douglas County. We've been out since 7 a.m. and the first videos are going up online now. By the end of the day we should have more than 200.
Think of it like a video straw poll: what's on voters minds and how the voted.
If you want to record your thoughts on video, upload it to YouTube and e-mail me the link.
10:42 a.m. There were 300 people who had voted at Prairie Park elementary school, 2711 Kensington, as of 10:15 a.m.
Election workers said there were several people waiting in line when polls opened at 7 a.m. and a few even had been there as early as 6 a.m. thinking they could vote. They were irate because they said they'd heard on Kansas City TV news that they could vote starting at 6 a.m.
There had been no long lines, they said.
- Mike Belt
10:35 a.m. Ronald McDonald already is a winner in today's elections.
The restaurant at Sixth Street and Wakarusa Drive played host to an impromptu breakfasttime rally of sorts - for children who had cast ballots in the countywide Kids Voting program.
All tables back in the playground area - whatever they call the place with all those the slides, tunnels and climbing things - had been filled soon after 8 a.m., and the crowd didn't dispurse till just before 8:30 a.m.
Filling the seats: Parents and grandparents of kids who'd stood with those same parents and grandparents to vote at nearby polling places: Mustard Seed Christian Fellowship and Pioneer Ridger Retirement Community just down Wakarusa Drive, and First Southern Baptist Church, just east on Sixth Street. The "I Voted"-type stickers gave everyone away.
McDonald's came into the election with plenty of advantages, beyond being the world's largest fast-food chain: Proximity to Quail Run School, a menu of hot food items and, perhaps most importantly, a place to pass the time before classes started.
"It's been a BUSY morning," a woman behind the counter said.
And just think: The polls had been open for all of an hour, with 11 more to go...
- Mark Fagan
10:25 a.m. I volunteered with Kids Voting early this morning at Central Junior High. Though I wasn't helping the adults vote, the real pollworkers told me things were rolling along there already.
The precinct has 900 voters and about 400 has cast ballots in advance - or requested a mail-in ballot. About 150 voters had voted by the time I left for the office. All told, Central Junior has had more than half its voters cast votes two and a half hours into the election.
9:54 a.m. All reports from the field indicate that lines are short or nonexistent throughout Douglas County.
Kari Wempe, a Citizen Journalism Academy fellow, reported that 19 people were waiting in line at Clinton Township Hall when the doors opened, but they were out in 20 minutes and the line was moving steadily.
The Associated Press reports that Barack Obama has cast his vote:
The Democratic presidential nominee and his wife, Michelle, were among the first to vote after polls opened Tuesday at Chicago's Beulah Shoesmith Elementary School. They cast paper ballots in side-by-side booths with 10-year-old Malia and 7-year-old Sasha looking on.
"The journey ends, but voting with my daughters, that was a big deal," Obama told reporters later.
8:53 a.m. Reports from Burge Union are of no lines and less than 100 voters so far.
8:30 a.m. Central Junior High has had about 100 people vote so far.
Corpus Christi church has had about 200.
Though lines were long at first, they seem to have died down. At Central, there were some stretches with no voters.
7:54 a.m. The line at one polling place is already quite long.
Central Junior High has six voting booths set up and another couple of people are just sitting in the auditorium's chairs marking their votes, using their knee as a voting booth.
The line was initially out the door, but people have been moving through quite quickly.
6:14 a.m. Ten minutes into voting and the Associated Press is already reporting long lines at polling places that are open.
The Associated Press is also reporting that voter turnout records are supposed to tumble in nearly every state, including red state strongholds that never had any hope of going for anyone but John McCain. AP is citing the "Obama effect" and also the "Palin effect" for making that possible.
Still 50 minutes until polls open in Douglas County. Once they're open, you can expect news and photos to show up here. We'll also be linking off to our special, interactive election day video project. That'll probably start sometime after 8 a.m.
By the way, there's still time to take part in our election day contest. It closes at 5 p.m. this afternoon.
6 a.m. Welcome to our live Election Day blog. This page will be your best guide to the Election Day 2008 happenings here in Lawrence as well as around the state and the country.
If you have any remaining questions before you cast your ballot, please click on the Election 2008 logo on the left of the screen. There you'll find all the chats, stories, videos and profiles we've done for this election.
In less than two hours, you'll also see the first of more than 200 videos we're creating at the 67 polling places in Douglas County. They'll be sorted geographically withing Lawrence and the county, and then labeled by precinct. You can peruse all of them or see only what is on the mind of your neighbors.
If you'd like to report on the election experience yourself, visit our Reader Blogs, or send a note to editor@ljworld.com and we can include your experiences in this blog.
Copyright 2018 The Lawrence Journal-World. All rights reserved. This material may not be published, broadcast, rewritten or redistributed. We strive to uphold our values for every story published.