Photo Gallery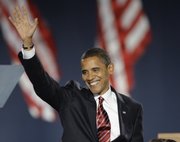 President-elect Barack Obama addresses crowd in Chicago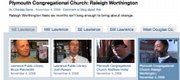 Voters throughout Douglas County share their Election Day thoughts.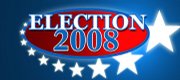 In-depth coverage of the candidates and the issues, all leading up to the Aug. 5 primary and the Nov. 4 general election.
Photo Gallery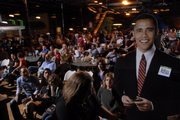 Election night in Lawrence
-->
-->
-->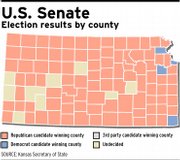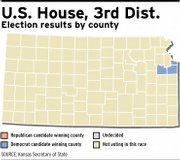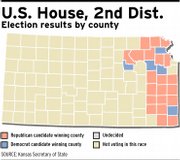 10:05 p.m.With all Douglas County precincts reporting, Democrats were the big winners.
For County Commission, Nancy Thellman defeated David Brown. In the Kansas Senate, Marci Francisco defeated Scott Morgan.
Republicans had their races too, though. In the Kansas House, Tom Sloan defeated John Wilson. And in County Commission, Jim Flory defeated Ken Grotewiel.
For complete election results, visit LJWorld.com/elections/.
9:13 p.m.All precincts in Lawrence are reporting and all three sales taxes have won big.
* Question No.1: 72.98 percent for and against 27.02 against.
* Question No. 2: 70.29 percent for and 20.71 percent against.
* Question No. 3: 68.81 percent for and 31.19 percent against.
- Chad Lawhorn from the Courthouse
8:55 p.m. updateDemocrat Nancy Thellman's lead has shrunk slightly, but she still is carrying about 60 percent of the vote to lead Republican David L. Brown 4,724 votes to 3,195 with 17 of 22 precincts reporting in the 2nd District race.
In the 3rd District, Republican Jim Flory has opened up a margin to lead 6,394 votes to 3,922 over Democrat Ken Grotewiel, with 21 of 24 precincts counted.
- George Diepenbrock from the County Courthouse
More results and all three sales tax questions continue to have large leads. With 43 of 49 precincts reporting:
* Question No. 1 71.69 percent for and 28.31 percent against.
* Question No. 2: 69.05 percent for and 30.95 percent against
* Question No. 3. 67.39 percent for and 32.61 percent against.
Advance ballots, which could be about 16,000 votes countywide are still not included in the totals, but city leaders are now beginning to express confidence that all three ballot measures will win tonight.
- Chad Lawhorn from the Courthouse.
8:35 p.m.Nancy Thellman has opened up a wider lead in the 2nd District Douglas County Commission race. She's ahead 3,751 votes to 1,896 over Republican David L. Brown with 13 of 22 precincts reporting.
In the 3rd District race, Republican Jim Flory leads Democrat Ken Grotewiel 4,141 to 2,826 votes with 14 of 24 precincts in.
- George Diepenbrock from the County Courthouse
8:31 p.mThe current precincts that election workers have tallied do not include advance ballots. Douglas County Clerk Jamie Shew said his office received 147 advance ballots that were dropped off at the courthouse at the last minute, so election workers have to audit all the advance ballot results until they can tally those votes.
The precincts that make up the partial results include a mix of northern and central Lawrence and areas of rural Lawrence, according to information from the Douglas County Clerk's Office released at 8:25 p.m.
- George Diepenbrock from the County Courthouse
8:22 p.m.Just in, advanced vote totals show all three sales tax questions have large leads based on nearly 24 percent turnout.
The advanced totals show that Question No. 1, the infrastructure sales tax, was up 71.63 percent to 28.37 percent. Question No. 2 for basic transit operations were up 70.46 percent to 29.54percent, and question No. 3 for transit operations was up 69.43 percnt to 30.57 percent. More details later.
- Chad Lawhorn from the Courthouse.
8:19 p.mWith four of 22 precincts reporting in the Second District Douglas County Commission race, Democrat Nancy Thellman leads Republican David L. Brown, 763 votes to 392.
In the 3rd District race, Jim Flory, a Republican, leads Democrat Ken Grotewiel 803 votes to 495 votes with four of 24 precincts reporting.
- George Diepenbrock from the County Courthouse
8:14 p.m.Republican Sen. Pat Roberts easily wins re-election, defeating Democratic challenger Jim Slattery.
The Associated Press declared Roberts the winner based on an analysis of information from voters interviewed as they left the polling places. The interviews were conducted for The Associated Press by Edison Media Research and Mitofsky International.
Roberts was seen as the favorite in the race because a Democrat hasn't won a Senate race in GOP-leaning Kansas since 1932.
The incumbent portrayed himself as someone who has delivered federal funds and favorable legislation for Kansas. He also raised 3 1/2 times as much campaign money as Slattery - more than $5.2 million by mid-October.
7:49 p.m.Douglas County Clerk Jamie Shew is still predicting voter turnout to be in the high 70 percent range, with about 60,000 voters in Douglas County casting ballots.
The first batch of ballots from polling sites arrived at 7:30 p.m., earlier than Shew anticipated. The first ballots in came from Precinct No. 28, which votes at Cornerstone Southern Baptist Church, 802 W. 22nd St. Terrace.
Workers have begun running ballots through the counting machines.
- Chad Lawhorn from the County Courthouse.
7:44 p.m.The Associated Press reports:
Barack Obama opened a lead in his bid to become the first black president Tuesday night, moving ahead of Republican John McCain in a nation clamoring for change. Fellow Democrats picked up a Virginia Senate seat and elected a Missouri governor.
Obama swept to victories in traditionally Democratic states in the East and Midwest and jumped ahead in fragmentary returns from Pennsylvania, a state where his rival invested heavily in hopes of winning in traditionally inhospitable territory.
McCain countered in the safest of Republican states.
That left the battlegrounds to settle the race: Florida, Ohio, Virginia, Colorado, as well as Pennsylvania and more. Most were customarily Republican, but Obama spent millions hoping to peel away enough to make him the 44th president.
"May God bless whoever wins tonight," President Bush told dinner guests at the White House, according to spokeswoman Dana Perino.
Interviews with voters suggested that almost six in 10 women were backing Obama, and men leaned his way by a narrow margin. Just over half of whites supported McCain, giving him a slim advantage in a group that President Bush carried overwhelmingly in 2004.
7:18 p.m.As we watch election returns this evening, here's a couple pieces of history to keep in mind:
The last time the community voted on a sales tax issue was in 1994, when a 1 percent countywide sales tax for parks, a county jail, a health facility and property tax relief was approved. Voters approved that tax by a 57 percent to 43 percent margin. The totals in that election were 15,714 voters for, and 11,061 against.
It will be interesting to see how many more people vote in this sales tax election.
- Chad Lawhorn from the County Courthouse.
7:10 p.m.Douglas County Clerk Jamie Shew has said we should expect our first results of the evening between 7:30 and 8 p.m.
Shew said that his staff has counted the vast majority of ballots that were cast in advance. Those results are expected to be the first ones released this evening. The results of those advanced ballots could end up being a strong predictor of what the night holds for area races. With about 22 percent of registered voters casting advanced ballots, the numbers could be a good representation of the overall mood of voters.
- Chad Lawhorn from the Courthouse.
Copyright 2018 The Lawrence Journal-World. All rights reserved. This material may not be published, broadcast, rewritten or redistributed. We strive to uphold our values for every story published.