Breaking Political News
Want to be among the first to know about news on the Nov. 4 election? As soon as results are in, or whenever breaking political news happens, the news will be in your e-mail or on your cell phone - you choose.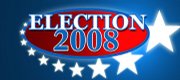 In-depth coverage of the candidates and the issues, all leading up to the Aug. 5 primary and the Nov. 4 general election.
Bill Wagnon is keeping a close eye on the District 4 State Board of Education race.
After all, the winner will replace Wagnon, a Democrat who is retiring after three terms on the board, serving most recently as its chairman.
The race pits Democrat Carolyn Campbell against Republican Robert Meissner, both of Topeka. Wagnon said it could tip the balance of a moderate board of education to one that reverts to the culture wars of years past.
"As far as I'm concerned, the most important factor that voters need to remember is the chaos on the state board three, four years ago," he said.
Neither candidate lacks experience. Both Meissner and Campbell sat on their local boards of education for 12 years, Campbell in Topeka and Meissner in the Shawnee Heights district.
Both cite funding as the biggest challenge facing public schools, saying lack of money widens the achievement gap and dampens teacher morale. And both say changes need to be made in the No Child Left Behind Act, which pressures teachers to "teach to the test," as Campbell put it.
Meissner called the law "noble legislation," but "I don't think the federal government got it right the first time."
On the issue of evolution, though, Campbell said she unequivocally supports keeping intelligent design and creationism out of science classes. Meissner agrees, though he said in an Oct. 20 debate at Free State High School that other theories could be presented if the scientific community agrees on the merits of alternative theories.
"The litmus test for me is scientific credibility," he said.
Perhaps the widest gap between the two is when it comes to sex education. Campbell supports comprehensive education, while Meissner backs "abstinence-based" programs and believes local school districts should draw the curriculum.
The biggest problem, Wagnon said, is not that the evolution debate will reappear, but that a conservative board will contribute to a new round of infighting, shifting the board's focus from increasing standardized test scores and continuing the "remarkable" progress of Kansas students in recent years.
Copyright 2018 The Lawrence Journal-World. All rights reserved. This material may not be published, broadcast, rewritten or redistributed. We strive to uphold our values for every story published.