Breaking Political News
Want to be among the first to know about news on the Nov. 4 election? As soon as results are in, or whenever breaking political news happens, the news will be in your e-mail or on your cell phone - you choose.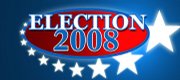 In-depth coverage of the candidates and the issues, all leading up to the Aug. 5 primary and the Nov. 4 general election.
In the race for Senate District 2, there are wide differences in the policy stances of the two candidates: Republican Scott Morgan and Democrat Marci Francisco.
Francisco has consistently voted with Gov. Kathleen Sebelius in opposing two proposed coal-burning power plants in southwest Kansas.
Morgan has said he didn't know how he would've voted on the issue that dominated the last legislative session, but said he would have tried to seek a compromise.
On a proposed statewide smoking ban in indoor, public places, Francisco supports it, while Morgan said he doesn't.
And on the issue of the Kansas minimum wage of $2.65 per hour, which is the lowest state minimum wage in the nation, Francisco said she would support an increase, while Morgan said he wouldn't.
Morgan, who currently serves on the Lawrence school board, has criticized Francisco, saying that she doesn't adequately represent the district because she has voted "pass" 50 times, which, according to his research, was more than twice as many "pass" votes as the next senator.
But Francisco, a former Lawrence mayor who is seeking election to a second term in the state Senate, and her supporters say she is a fair-minded legislator who works hard on behalf of the 2nd District.
Francisco defended her voting record, saying her "pass" votes are essentially "no" votes because it takes 21 "yes" votes in the 40-member Senate to approve a bill. Francisco said she has voted "pass" sometimes to raise concerns from her district and indicate to others that she may be willing to negotiate for something her constituents want.
And Democrats claimed that Morgan's basic premise was flawed because many of the "pass" votes he cited in a campaign commercial he got wrong.
Francisco's supporters have said Morgan's complaint about Francisco's "pass" votes is undermined by Morgan's unwillingness to say how he would have voted on the coal-powered power plant bills if he had been in the Senate.
Francisco voted against bills that would have allowed construction of two 700-megawatt coal-fired plants in western Kansas. Those bills passed the Legislature, but were vetoed by Sebelius, and supporters of the plants were unable to get the necessary two-thirds majorities to overturn the vetoes.
Morgan said he could support new coal-powered plants if they were part of a comprehensive energy plan that included goals and timelines for development of alternative energy sources.
The 2nd State Senate District includes much of the city of Lawrence and all of Lecompton. It also includes the townships of Clinton, Kanwaka, Lecompton and part of Wakarusa.
Copyright 2018 The Lawrence Journal-World. All rights reserved. This material may not be published, broadcast, rewritten or redistributed. We strive to uphold our values for every story published.