Breaking Political News
Want to be among the first to know about news on the Nov. 4 election? As soon as results are in, or whenever breaking political news happens, the news will be in your e-mail or on your cell phone - you choose.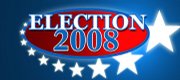 In-depth coverage of the candidates and the issues, all leading up to the Aug. 5 primary and the Nov. 4 general election.
A former legislator is trying to return to the Kansas Statehouse by challenging an incumbent state senator.
Shari Weber, a Republican from Herington and former House majority leader, is challenging Anthony Hensley, a Democrat from Topeka, for the District 19 Senate seat.
Hensley, 55, who is the Senate minority leader, has been a senator since 1992. He served in the House prior to that. He is a special education teacher.
Weber, 55, served in the House for 10 years. She has been president and chief executive of Community Bankers Association of Kansas since May 2003.
Hensley said he has worked to improve education, access to affordable health care, tax fairness and safety in workplaces. He also said he has worked for community-based services for the disabled, including the mentally ill and aging Kansans.
Personal safety, education and jobs are Weber's priorities, she said. She favors less government regulation to encourage entrepreneurship and economic development.
The 19th Senate District includes southern Douglas County, northern Osage County and eastern Topeka and eastern Shawnee County.
Copyright 2018 The Lawrence Journal-World. All rights reserved. This material may not be published, broadcast, rewritten or redistributed. We strive to uphold our values for every story published.