More Douglas County Commission races
Breaking Political News
Want to be among the first to know about news on the Nov. 4 election? As soon as results are in, or whenever breaking political news happens, the news will be in your e-mail or on your cell phone - you choose.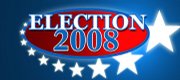 In-depth coverage of the candidates and the issues, all leading up to the Aug. 5 primary and the Nov. 4 general election.
The 3rd District Douglas County Commission race matches up two experienced politicians: one a longtime Douglas County resident and the other a newcomer to the area.
Republican Jim Flory, a former Douglas County district attorney, and Democrat Ken Grotewiel, a retired Kansas Water Office official, have focused on different issues leading up to the Nov. 4 election.
Flory, who is also a retired federal prosecutor and former Douglas County sheriff's officer, said he has heard a number of concerns about keeping property taxes from increasing significantly while still offering expected county services.
With the economic picture, it's going to take a balance, he said.
"I've been there. I've made difficult decisions in that regard, and I think that will help the fact that I was a decision maker at the county level and the federal level," said Flory, who lives southwest of Lawrence.
Grotewiel, who recently moved to Lawrence and also once represented Wichita as a state legislator, said the county needs to look at performance-based budgeting. He also said constituents want development but they also want to preserve green space and the character of the county.
"Some people think that it's inconsistent, that you can't do both, but I think both really tie into each other. In fact, for the long term, I think the more green space you have it really does increase property values," he said.
Flory has also been a major proponent in the race for the County Commission and local legislative delegation advocating to complete the South Lawrence Trafficway; his preference is the 32nd Street route. Grotewiel has said he could see the merits of a more southern route, but with pending litigation, he has said that needs to play out.
The district includes most of western Lawrence, Lecompton and the western part of the county.
Grotewiel defeated Clenece Hills of Lawrence in the August primary election, and Flory defeated John Tacha, also of Lawrence. The candidates are vying for the seat of Republican Jere McElhaney, who did not seek re-election.
Copyright 2018 The Lawrence Journal-World. All rights reserved. This material may not be published, broadcast, rewritten or redistributed. We strive to uphold our values for every story published.